Ilhan Omar is pushing to change headwear ban in the House: "No one puts a scarf on my head but me"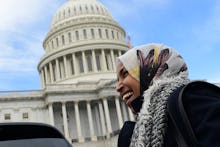 On Saturday, Ilhan Omar, who was elected to represent Minnesota's 5th Congressional District, spoke out about the significance of lifting the current headwear ban in the United States House of Representatives.
As it stands, Omar, who is Muslim and wears a hijab, is not allowed to wear her religious head covering in the House, due to a ban that dates back to 1837.
"No one puts a scarf on my head but me," Omar tweeted Saturday. "It's my choice — one protected by the First Amendment. And this is not the last ban I'm going to work to lift."
Omar has supported a proposal introduced by Democratic leader Nancy Pelosi and incoming Committee on Rules Chairman Jim McGovern that will allow religious headwear, Roll Call reported on Friday. If the proposal passes, Omar would be the first federal legislator to wear the religious head covering when she is sworn in in January, the outlet reports.
Omar and incoming Michigan Rep. Rashida Tlaib made history on Election Day, as the first Muslim women to be elected to Congress. Additionally, Omar is the first Somali-American woman to be elected to the House.