Belgrade, Serbia, has a wild nightlife scene, with clubs on barges and a burgeoning craft beer scene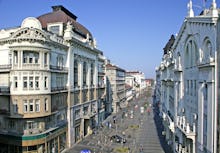 2019 marks 20 years since the NATO bombing of Belgrade. The military headquarters damaged in the bombing still stand crumbled and empty on Kneza Milosa street, a proud promenade in central Belgrade, but the city and its young nation are pressing forward. The European Union announced in February that Serbia and Montenegro are further on the path to joining the union. That recognition is expected as soon as 2025, and Belgrade is using this time to spruce itself up to welcome new tourists, particularly Americans (as I recently learned on a trip in September, hosted by the Serbian tourism board).
Yes, history buffs will be kept busy examining Belgrade's place at the crossroads of civilization, which can be explored at the Museum of Yugoslavia, Museum of Contemporary Art, or the Nikola Tesla museum. But there's plenty of fun to be had, too, particularly because Belgrade may be the wildest nightlife city in Europe — sorry, Berlin. The center of the scene is the row of floating discos on the Sava River — barges where partygoers can club-hop along all night. There's a constant stream of neon lights and throbbing bass, which can be seen and heard across the water, where the city's trendiest restaurants sit in a row in one long concrete building called Beton Hala. If that's all too intimidating, consider investigating the burgeoning craft beer scene in the city's plentiful pubs. The favorable exchange rate (to the Serbian dinar, not the euro!) means a pint tops out around $3.
Serbia isn't the only country in the area investing in tourism; just consider how everyone on your Instagram feed was in Croatia last summer. The relatively small size of the countries on the Balkan peninsula (Serbia is smaller than Kentucky) means an adventurous American might mix and match their itinerary through Belgrade to add stops in Sarajevo, Bosnia and Herzegovina, or Zagreb, Croatia. For now, cheap flights are the simplest way to connect the cities, as buses take unnecessary extra hours and train routes are constantly changing. Go to Serbia now, and let the influx of tourists convince the nations to work together again — at least on some transportation infrastructure.
The must-try dish
Travelers to Serbia will be awed by the sheer volume of meat consumed at every meal, in the form of stews, patties, kebabs and more. Cevapcici is the essential dish of sausage, formed of minced lamb, pork, or beef (or all three mixed together), grilled and served with bread, onions and perhaps the delicious ajvar, a soft spread of blended bell peppers, eggplant and garlic.
A secret island
Americans might not know a ton about Serbia, but they could observe from a map that it's landlocked. This is why it's such a delightful surprise to stumble upon Ada Ciganlija, an artificial island and beach constructed in the 1960s. There, urbanites can swim, lounge or even parasail before enjoying a cocktail at the bars lining the sand.
The must-buy souvenir
A small bottle of rakija is the perfect gift. The fermented fruit spirit is often translated as "brandy," which isn't quite right, as it's most often made with plums, apricots or quinces as opposed to typical grapes. Try out each flavor while you're visiting; shots are offered at the beginning of dinner to inspire a happy meal.
For more of Mic's Best Places to Travel in 2019, explore our map or view the complete list here.