Report: White House caves, decides not to revoke Jim Acosta's press pass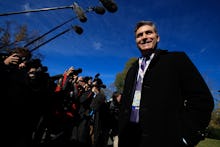 The White House reversed course Monday in deciding not to revoke CNN reporter Jim Acosta's press credentials, ending a saga that began the day after the midterm elections, ABC News' Jonathan Karl reported.
Press secretary Sarah Huckabee Sanders announced Nov. 7 the White House was revoking Acosta's "hard pass," barring the reporter from entering the White House grounds. At the time, Sanders claimed Acosta assaulted a White House intern during a post-election news conference.
Sanders used doctored video footage to make the accusation against Acosta, one which federal Judge Timothy J. Kelly said was of "questionable accuracy."
The White House soon changed its tune, instead claiming Acosta was rude during the news conference.
CNN then sued, saying the decision violated Acosta's First and Fifth Amendment rights to freedom of the press and due process, respectively.
Kelly — who was appointed by President Donald Trump — granted a temporary restraining order in CNN's favor Friday, forcing the Trump administration to reinstate Acosta's credentials while CNN's full legal challenge continued.
Over the weekend, however, the White House sent Acosta a letter signaling it intended to revoke Acosta's credentials once more when the 14-day temporary restraining order expired.
Yet the White House has backed off its threat, abandoning the decision to permanently revoke Acosta's credentials but reserving the right to do so in the future if Acosta behaves in a way the White House deems a breach of decorum.
Such move would likely spark more litigation against the White House.
Trump — as well as other senior administration officials — have railed against CNN, telling voters the news outlet is an adversary that pushes "fake news." Acosta has fought back against those characterizations at White House press briefings, resulting in adversarial relationships with both Trump and Sanders.
Late Monday afternoon, the White House reportedly released a new set of formalized rules to be observed by reporters during press conferences.
"We have created these rules with a degree of regret," Sanders wrote in a memo to reporters. "We would have greatly preferred to continue hosting White House press conferences in reliance on a set of understood professional norms, and we believe the overwhelming majority of journalists covering the White House share that preference. But, given the position taken by CNN, we now feel obligated to replace previously shared practices with explicit rules."
Ultimately, Trump seems to view his feud with CNN as good politics, as his 2020 re-election campaign used the revocation of Acosta's press pass as fundraising fodder.
"President Trump will NOT put up with the media's liberal bias and utter disrespect for this Administration and the hardworking Americans who stand with us," Trump's campaign wrote in a fundraising email Wednesday.
Nov. 19, 2018, 4:58 p.m.: This story has been updated.