Michelle Wolf calls the WHCA "cowards" for cutting comedy from the correspondents dinner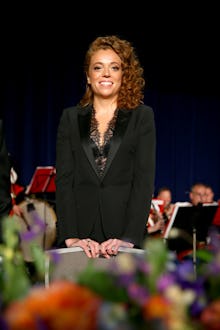 On Monday, the White House Correspondent's Association announced that the speaker for the upcoming 2019 White House correspondents' dinner will be biographer Ron Chernow — and not a comedian, as it has been at dinners for the past few decades, according to the Washington Post. The decision comes after the 2018 correspondents' dinner, which featured a speech by comedian Michelle Wolf, whose jokes about the Trump administration drew vitriol from the White House.
Wolf responded to the WHCA's announcement on Monday in a tweet — and she didn't mince words, writing, "The @WCHA are cowards. The media is complicit. And I couldn't be prouder."
Among Wolf's one-liners from the 2018 dinner were digs about White House press secretary Sarah Huckabee, including a joke that Sanders "burns facts and then she uses that ash to create a perfect smoky eye," and that Sanders was like "Uncle Tom, but for white women who disappoint other white women."
While comedians mocking the president and his staff at the annual dinner is a longstanding tradition, the Trump administration didn't take Wolf's jokes in stride. In fact, President Donald Trump tweeted, "Everyone is talking about the fact that the White House correspondents dinner was a very big, boring bust ... the so-called comedian really 'bombed,'" and former White House press secretary Sean Spicer called the dinner "a disgrace."
It's not clear whether reaction to Wolf's speech at the 2018 dinner was what pushed the WCHA to back away from comedy for the upcoming dinner — but it sure seems likely. In Monday's statement announcing Chernow as speaker, Olivier Knox, chief Washington correspondent for SiriusXM and president of the WHCA, said in a statement said he was "delighted" at the choice.
"As we celebrate the importance of a free and independent news media to the health of the republic, I look forward to hearing Ron place this unusual moment in the context of American history," Knox said.
And Chernow himself added, "Freedom of the press is always a timely subject and this seems like the perfect moment to go back to basics. My major worry these days is that we Americans will forget who we are as a people and historians should serve as our chief custodians in preserving that rich storehouse of memory. While I have never been mistaken for a stand-up comedian, I promise that my history lesson won't be dry."