Today in Trump's America: Ivanka Trump used personal email to conduct official WH business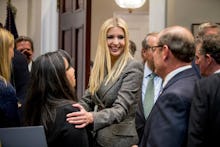 We've made it to Tuesday and are one day closer to Thanksgiving weekend.
Monday was a busy day in Trump's America, and your newsletter author fears what Tuesday might hold, as politicians often metaphorically "take out the trash" ahead of holiday weekends — releasing bad news when the public is tuning out in order to bury it.
Here's what's happening in Trump's America:
• Trump's day begins at 1:05 p.m., when he'll hold the annual turkey pardon in the White House Rose Garden. This year it's Peas vs. Carrots, and you can vote on Twitter to pick which turkey you want to see spared. (Truthfully, both turkeys are spared and will live the remainder of their lives at Virginia Tech's Gobblers Rest exhibit.)
About last night: But her emails...
First daughter Ivanka Trump used a personal email account to send hundreds of emails regarding official White House business, a violation of federal rules regarding record retention, the Washington Post reported.
Her use of a personal email account is not only against federal records rules, but it's an incredibly hypocritical act given her father campaigned against "Crooked" Hillary Clinton's use of personal email when she served as secretary of state.
The emails were discovered a year ago when five separate Cabinet agencies were responding to a lawsuit and found Ivanka Trump conducted official White House business in 2017 from a private email account tied to a web domain she owns with her husband, Jared Kushner, according to the Washington Post.
When she was confronted with the revelation she was using a personal email account, she told aides she didn't know the rules.
A spokesman for Ivanka Trump's lawyer, Abbe Lowell, told the Washington Post she did use a personal email account, but no emails contained classified information — an almost identical argument to what Clinton made.
"While transitioning into government, after she was given an official account but until the White House provided her the same guidance they had given others who started before she did, Ms. Trump sometimes used her personal account, almost always for logistics and scheduling concerning her family," the spokesman, Peter Mirijanian, told the Washington Post.
Mirijanian tried to differentiate Ivanka Trump's use of a private email, saying her email didn't go through a private server.
"Ms. Trump did not create a private server in her house or office, no classified information was ever included, the account was never transferred at Trump Organization, and no emails were ever deleted," Mirijanian told the Washington Post.
Now that Democrats will take control of the House, her use of a private email to conduct official business could face further scrutiny.
Today in Trump's America: Judge rules against Trump's asylum changes
Late Monday night, a federal judge temporarily blocked the Trump administration's attempt to deny asylum claims from immigrants who illegally cross the southern border.
Trump made the change to how immigrants can seek asylum in a proclamation on Nov. 9, which says immigrants could only seek asylum at official points of entry. In making the proclamation, Trump relied on the same powers he used to create the travel ban, which the Supreme Court ultimately upheld.
However federal judge Jon Tigar ruled Trump is flagrantly violating the Immigration and Naturalization Act, which says immigrants can apply for asylum whether or not they entered the country at a "designated port of arrival."
"Whatever the scope of the president's authority, he may not rewrite the immigration laws to impose a condition that Congress has expressly forbidden," Tigar wrote in his ruling.
Tigar went on to say that because of Trump's rule change, "Asylum seekers will be put at an increased risk of violence and other harms at the border, and many will be deprived of meritorious asylum claims."
"The government offers nothing in support of the new rule that outweighs the need to avoid these harms," Tigar wrote.
Opponents of the new asylum rule — which Trump issued in response to the migrant caravan from Central America that he used as a pre-election fear tactic to get his base to the polls — hailed the ruling.
"This ban is illegal, will put people's lives in danger, and raises the alarm about President Trump's disregard for separation of powers," ACLU attorney Lee Gelernt said in a statement. "There is no justifiable reason to flatly deny people the right to apply for asylum, and we cannot send them back to danger based on the manner of their entry. Congress has been clear on this point for decades."
Capitol Hill happenings: Democrats' House gains may not be over yet
Democrats could gain yet more House seats, as states continue to count mailed-in and provisional ballots.
In Utah's 4th District, Democrat Ben McAdams retook the lead over GOP Rep. Mia Love. With just a few ballots left to count, McAdams is the likely winner in this contest, which would bring Democrats to 38 House pick-ups.
Democrats also hold a lead in New York's 22nd District, where Democrat Anthony Brindisi leads GOP Rep. Claudia Tenney. The race has yet to be called, but a Brindisi win would bring Democrats' number of House pick-ups to 39.
And in California's 21st District — a race that has already been called by the Associated Press for Republican Rep. David Valadao — Democratic nominee T.J. Cox is now within 1,000 votes of Valadao. With a number of ballots left in the district, it's very possible Cox could overtake Valadao, an outcome that would be a huge surprise upset and bring Democrats' number of House pick-ups to 40.
And the rest...
Raise the white flag: CNN White House reporter Jim Acosta got his credentials back after the White House decided to cave rather than fight the revocation of Acosta's press pass in court. The White House did, however, announce new rules governing how questions can be asked at briefings and news conferences, saying reporters may only ask one question or risk having their credentials revoked. Revoking a credential for asking follow-up questions would surely spark more legal challenges.