Hype Daily: Stan Lee's company slams Bill Maher and more entertainment news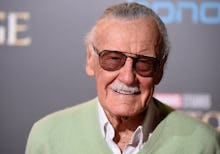 Good morning, Hype Daily readers — can you believe we're only two days away from Thanksgiving? Hope you all have your stretchy pants at the ready. Anyway, let's get into the day's entertainment news.
Stan Lee's company slams Bill Maher for his bad "jokes"
The late Stan Lee's company, POW! Entertainment, responded to a blog post by comedian Bill Maher mocking Lee's legacy — and it's not happy about what Maher said about the legendary comic book icon, who died recently at the age of 95.
"The guy who created Spider-Man and the Hulk has died, and America is in mourning. Deep, deep mourning for a man who inspired millions to, I don't know, watch a movie, I guess," Maher said in a blog post on his Real Time website Saturday. "Now, I have nothing against comic books — I read them now and then when I was a kid and I was all out of Hardy Boys. But the assumption everyone had back then, both the adults and the kids, was that comics were for kids, and when you grew up you moved on to big-boy books without the pictures." 
He added, "I don't think it's a huge stretch to suggest that Donald Trump could only get elected in a country that thinks comic books are important."
Well, POW! Entertainment responded to Maher in an open letter, calling his disparaging comments "disgusting" and saying, "Mr. Maher: Comic books, like all literature, are storytelling devices. When written well by great creators such as Stan Lee, they make us feel, make us think and teach us lessons that hopefully make us better human beings."
Snoop Dogg got a star on the Hollywood Walk of Fame
On Monday, rapper, producer and TV star Snoop Dogg was honored with his very own star on the Hollywood Walk of Fame. And during the ceremony in his honor, Snoop thanked ... himself.
"I want to thank me for believing in me, I want to thank me for doing all this hard work," he said, according to Billboard. "I wanna thank me for having no days off. I wanna thank me for never quitting. I wanna thank me for always [being] a giver and trying to give more than I receive. I want to thank me for trying to do more right than wrong. I want to thank me for just being me at all times." Well, he's right, Snoop couldn't have gotten where he is today without Snoop.
Mandy Moore quietly got married to musician Taylor Goldsmith
This Is Us star Mandy Moore and her beau, musician Taylor Goldsmith, got married, Moore revealed in an Instagram post on Monday. The photo showed Moore and Goldsmith together in their wedding wear, with the caption "11-18-18," so presumably they just got married on Sunday.
A source told E! News the two were married in "an intimate backyard wedding at Mandy's home that started just after sundown on Sunday evening," and, according to E! News, there were just about 50 guests. And don't worry, the guest list at the reception afterward included some of Moore's This Is Us costars, like Milo Ventimiglia, Chrissy Metz and Sterling K. Brown.
Maya Rudolph and Natasha Lyonne have signed a new deal with Amazon
Stars Maya Rudolph and Natasha Lyonne have reportedly signed a first-look deal with Amazon and will create new, original projects for Amazon Studios under their production company, Animal Pictures. Rudolph already stars in the Amazon series Forever, and in a statement about her new deal, she said she's had "an incredible experience working with the team at Amazon Studios on Forever, where they have given us true creative freedom," Vulture reported.
May I suggest their new projects include an animated show where Maya Rudolph voices every single character?
Put this on your radar: Ralph Breaks the Internet
Families will likely flock to the movies over the weekend, while everyone's home for Thanksgiving, and the new Disney film Ralph Breaks the Internet will probably be high on the "fun for all ages" list.
The movie is a sequel to 2012's critically acclaimed Wreck-It Ralph, and it's gotten solid reviews so far. Vanity Fair called the film "a wistful and clever delight," that is, if you don't think too hard about how different the movie's optimistic view of the internet is from the actual cesspool we all live in online. But like I said, don't think about it! Check out a trailer for Ralph Breaks the Internet here.
This has been Hype Daily, Mic's morning entertainment roundup. It's everything you need to catch up on in the entertainment world and what to look forward to today. Want to receive this as a daily email in your inbox? Subscribe here.