Ezra Miller and the pervasive myth that clothing is somehow gendered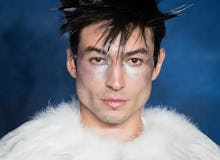 Ezra Miller is a person who gives a fuck when it comes to how he dresses. He became a bonafide showstopper after his film debut in 2008's Afterschool and recently was the subject of several headlines for his high-concept looks on the Fantastic Beasts II press tour.
Miller is living outside of the gender binary: He first came out as queer in 2012, and described his gender identity as "fluid" in a recent GQ Style interview. The actor's recent foray into more straight-off-the-runway looks, bolder makeup and the integration of womenswear into his wardrobe has received much attention.
"Ezra Miller stuns with gender-fluid looks in 'Playboy' cover shoot," Billboard wrote. "Ezra Miller's puffer coat dress shows how exciting gender-neutral clothing can be," the Daily Beast wrote. "How Ezra Miller is representing gender-neutral fashion," French Vogue wrote.
The phrases "gender-fluid looks," "gender-neutral clothing" and "gender-neutral fashion" call attention to Miller's two couture womenswear looks during two Fantastic Beasts premieres. The first outfit was a puffer jacket from a collaboration between Pierpaolo Piccioli and Moncler; the second was a piece from Givenchy's fall 2018 couture collection. He also wore heels, a nightgown and painted lips in a recent Playboy photo spread.
Miller's attention-grabbing looks and the conversation around them raises questions around menswear, womenswear and why does the clothing industry use these labels at all? If Miller himself does not identify as any particular gender, wouldn't everything he wears be considered gender neutral?
There's a long history of male-presenting celebrities rocking womenswear; it is often seen as a deviation from the norm, making it noteworthy for many publications. It was big news when A$AP Rocky wore a floral Gucci babushka scarf, when Jaden Smith posed in a skirt for a Louis Vuitton campaign, when Lenny Kravitz wore high-heeled studded booties ("clearly in touch with his feminine side," Refinery 29 wrote), when Kanye West wore a silk printed shirt by French fashion house Céline and when David Beckham stepped out in a sarong. Of course, there's Prince, Bowie and even Kurt Cobain who were seen as boundary-pushing celebrities who didn't pay any mind to gender norms.
Another Man magazine called Miller's red carpet looks "the most authentically rebellious pop culture moment in men's style since Young Thug's Jeffery album cover back in 2016," referring to Young Thug's purple dress by designer Alessandro Trincone. It's sad to think that a nonbinary actor wearing designer garments is somehow seen as rebellious. Women do it all the time — in fact, they're expected to.
Despite recent efforts to de-gender fashion, like Celine Dion's recently announced gender-neutral children's clothing line, the industry largely categorizes its clothing within the gender binary, an unnecessary step since clothing inherently isn't male nor female. Attempts to create genderless fashion have largely failed in presenting anything beyond colorless and shapeless basics: see Zara or H&M.
"I feel like most ungendered or unisex fashion is just big oversized shapeless clothes, really just putting everyone in menswear," Chromat's Becca McCharen-Tran told Mic earlier this year. "My ideal fashion situation would be accepting everyone and allowing them to [wear] whatever they want regardless of their gender presentation!"
Other cultures, however, have made inroads.
"My ideal gender-free collection would be a colorful parade of Djellabas," Gypsy Sport's Rio Uribe told Mic earlier this year, citing the traditional unisex garment worn by women and men alike in Africa and Asia for centuries.
Despite historical examples of unisex clothing, most retailers remain sectioned off by gender, fashion weeks continue to separate womenswear and menswear collection presentations (though some men have walked in womenswear, as was the case in recent Christian Siriano shows) and the idea of men in skirts continues to fascinate as some sort of boundary pusher.
Perhaps the conversation shouldn't focus so much on Miller's fashion choices, but rather the reaction to them. At the center of that discussion is a realization that we haven't done much to show that clothing is not gendered at all in the first place.