Can Democrats really win a Senate race in Mississippi? We're about to find out.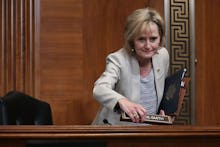 The midterm elections may be two weeks in the rearview for most of the country. However, in Mississippi, voters will head to the polls Nov. 27 special election Senate runoff — a race where Democrats have an outside chance of picking up a seat, despite Mississippi's deep red roots.
The race is between Republican Sen. Cindy Hyde-Smith — who was appointed to the seat in March after Republican Sen. Thad Cochran resigned for health reasons — and Democrat Mike Espy, who served as the secretary of agriculture under former President Bill Clinton.
Normally, a statewide election in a state as GOP-leaning as Mississippi wouldn't be competitive. However, Hyde-Smith has made a number of racist comments since Election Day that have made this race closer than it should be — with Democrats believing that Espy has a chance at victory.
On Nov. 11, video surfaced of Hyde-Smith at a political rally in which she is caught saying she would enthusiastically attend a "public hanging" if the rancher who she was standing next to invited her. Of course, Mississippi has an ugly history of lynchings — in which whites publicly hung black men and women. And Hyde-Smith is running against Espy, who is black.
The comment had led to backlash from civil rights groups, with Dennis Parker, the director of the American Civil Liberties' Racial Justice Program, calling the comment "an affront to black Americans who were lynched."
Hyde-Smith was also caught on video making a quip that making it "just a little more difficult" for college students — including those at historically black colleges and universities — to vote is a "great idea."
"And then they remind me that there's a lot of liberal folks in those other schools who maybe we don't want to vote," Hyde-Smith says in the video. "Maybe we want to make it just a little more difficult. And I think that's a great idea."
The comments have drawn such blowback that Walmart has asked Hyde-Smith to return a donation the company's political arm made to her campaign, according to CNBC.
Still, Espy has an uphill battle if he wants to defeat Hyde-Smith.
The last Democrat to win a Senate race in Mississippi was John Stennis in 1982.
President Donald Trump carried the state by a nearly 19-point margin, 58.3% to Hillary Clinton's 39.7%.
Neither Espy nor Hyde-Smith surpassed the 50% vote threshold needed to have won the race outright on Nov. 6, when all candidates, regardless of party, ran on the same ballot.
Hyde-Smith only took 41.5% of the vote in that first round. But a second Republican, tea party favorite Chris McDaniel, garnered 16.5% — meaning the total GOP vote share was 58%.
Espy, on the other hand, garnered 40.6% of the vote — not much better than Clinton's vote margin in 2016.
In a runoff, Espy has to hope that black turnout in the state matches or goes above its share of the electorate, and that independents and even some registered Republicans vote for him.
It's a tall order, but one that Democrats have accomplished in the not-so-distant past, when now-Sen. Doug Jones defeated Roy Moore in a special election in December 2017.
Republicans, for their part, are not taking any chances. Trump is holding two rallies in the state on Nov. 26, a day before the runoff. Meanwhile, Democratic Sens. Kamala Harris of California and Cory Booker of New Jersey have visited Mississippi to campaign for Espy in recent days.
Whoever wins will serve out the remainder of Cochran's term, which expires in 2020.