Trump foiled again at the border as federal judge halts White House ban on asylum claims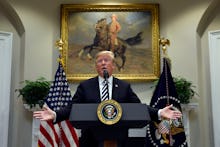 In the latest blow to President Donald Trump's attempted immigration crackdown, a federal judge has temporarily banned the White House from enforcing its block on asylum claims at the southern border of the United States.
In a ruling late Monday night, Jon S. Tigar of the U.S. District Court in San Francisco issued a temporary restraining order against Trump's previous proclamation that only immigrants who entered the U.S. at a specifically designated port of entry would be considered for asylum. The order will remain in effect until Dec. 19, when the court will begin to hear arguments in service of making the restraining order permanent. On Tuesday, the Trump administration called Tigar's ruling "absurd."
The president's decision, which was carried out by then-Attorney General Jeff Sessions and the Department of Homeland Security, came amid a swirling pre-midterms propaganda campaign during which Trump and other prominent Republicans sought to portray an approaching caravan of South American migrants as "an invasion" and a dire threat to national security.
In his attempts to employ fear-stoking rhetoric in order to fire up his base ahead of the Nov. 6 elections, Trump alternately referred to the group of would-be asylum seekers as "some very bad thugs and gang members," and "criminals and unknown Middle Easterners."
In fact, the decision to revoke asylum privileges at the border was just one item in a multi-series playbook Trump wheeled out in the days leading up to the midterm elections.
On Oct. 29, Defense Department officials confirmed that Trump had also authorized the deployment of more than 5,000 active-duty military troops to the border to serve as backup for Border Patrol agents — a move that was widely panned as a political stunt.
"This is using the troops as props," Jason Dempsey, an adjunct senior fellow at the Center for a New American Security, told the New York Times in October. "We're using a bunch of people to waste their time while they backstop the Border Patrol."
In a Monday interview given just hours before news of the federal judge's ruling broke, Army Lt. Gen. Jeffrey Buchanan confirmed to Politico that the 5,800 troops that had been dispatched border to stave off the approaching caravan would begin returning home as early as this week.
"Our end date right now is 15 December, and I've got no indications from anybody that we'll go beyond that," Buchanan told Politico.
But even amid reports that the troops would soon begin winding down their presence at the southwest border, NBC News also reported on Tuesday that Trump was expected to imminently authorize some of the remaining troops to defend Customs and Border Patrol agents against the approaching migrants on an as-needed basis — a request that Buchanan confirmed on Monday the military had already once denied.
"That is a law enforcement task, and the secretary of defense does not have the authority to approve that inside the homeland," he said of a separate DHS request for a special task force charged with defending Border Patrol agents from violent confrontations.
Two defense officials who spoke to NBC News, however, said that the mandate could go into effect as early as Tuesday.
"As Secretary [Kirstjen] Nielsen has said, we will not allow our frontline personnel to be in harm's way," DHS spokeswoman Katie Waldman told NBC News. "We will do everything we can to protect those who defend our nation's sovereignty and secure our border. We appreciate the Department of Defense stepping in to assist the Department of Homeland Security as needed."
As multiple outlets have previously reported, the troops dispatched in order to fortify the border have had little to do as the first migrant caravan, which is comprised of roughly 4,000 to 5,000 migrants, slowly makes its way north by foot.
According to NBC News, the existing military presence has largely concerned itself with "laying barbed wire barriers and erecting tent facilities" as they kill time awaiting the asylum seekers.