Transgender woman Aliah Hernandez was brutally beaten and left for dead. Her attacker walked free.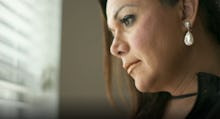 In December 2014, Aliah Hernandez was working the drive-thru at El Nopalito restaurant in New Braunfels, Texas, when she met Cameron Wright. Hernandez was instantly put at ease by Wright's sweet demeanor and shy flirtatiousness. After exchanging phone numbers, the two began to text, and agreed to meet at a motel room for their first date. Hernandez wanted to pursue a relationship with him, but she knew that before their romance escalated, she had to tell Wright her truth: she's transgender.
"I always tried to tell him before, 'I have something to tell you.' And he was like, 'No, I don't care nothing about you, you're beautiful and let's have a good time,'" Hernandez said in an interview for Mic Dispatch. "Like, there was times where I thought like he already knew."
Once inside of the motel room, Hernandez and Wright sat down on the bed and began to talk. Wright tried to kiss her, but Hernandez pulled away. She was conflicted. She felt guilty for not disclosing her trans identity immediately, but also wanted to avoid potential rejection. Although Hernandez was nervous about how Wright would react, she never expected to be brutally beaten and left for dead.
"He tried to kiss me and I told him no," Hernandez said, holding back tears while recalling the incident. "I said 'Don't kiss me because I told you I have to tell you something.' And he's like, 'Well, tell me what you need to tell me.' And then I told him, I said, 'I'm a transgender woman.'"
Wright became visibly angry and moved off of the bed to sit down on a chair where he sat in silence for several minutes. Eventually, he stood up.
"He said, 'Do you know, that I hate faggots and I hate homosexuals? I hate transsexuals, whatever you are,'" Hernandez recounted. "He hit me with his elbows and he knocked me down on the floor. And then, he went crazy. He hit me on the floor really bad and tried to choke me and everything. And he just kept screaming, 'You're gonna die tonight. You're gonna die, you're gonna die.'"
Officer J. Lopez of the New Braunfels Police Department found Hernandez at the motel lobby. According to the officer, she was slumped over, swollen, covered in bruises, nearly unconscious and gasping for air. Hernandez's left ear was also partially torn from her head, and would eventually have to be surgically reattached. She was airlifted to the ICU at Brooke Army Medical Center in San Antonio, Texas, where she spent two days fighting for her life. Once Hernandez was stable, Detective Rick Groff spoke with her, collected preliminary information and began an investigation.
"Cameron Wright discovered that Aliah Hernandez was a transgender person," Groff said in an interview with Mic Dispatch, recalling the events that transpired. "At that time he beat her, left her for dead and she was able to, I believe, crawl or get out of her room when she gained consciousness...when she was able to get out of her room, she went to the front lobby area and then that's when the police were called."
Groff eventually brought Wright in for questioning in what Groff explained was a voluntary interview, meaning that Wright was free to leave at any time. Through the course of the interview, Wright verified Hernandez's recollection of the events, even telling Groff that he believed he murdered Hernandez. Additionally, Wright confessed to destroying Hernandez's cell phone to conceal the evidence. Wright was free to leave, but Groff would file a report for felony assault.
"I wanted the district attorney to have that information so she could best choose that charge; I didn't want to choose it for the district attorney," Groff said. "I wanted to make sure, 'Hey, I'm going to give you guys the best information possible and I'll let you determine if those injuries meet that criteria since you're the one who has to fight that battle in a courtroom."
Hernandez's case was presented before the grand jury two times in July 2015, once by the Comal County District Attorney Jennifer Tharp and once by an associate. Both times, the grand jury failed to indict — meaning that they did not feel there was sufficient evidence to proceed to a trial where Wright's guilt or innocence could be assessed.
"I don't want to assume what the grand jury did or why they did anything," Groff said. "I could only tell you that they were provided a confession and great evidence of a felony crime. And I think they made the wrong decision."
Hernandez was told by her attorneys that her case had gone as far as the legal system would allow. Meanwhile, Hernandez was still reeling from the trauma of that horrific night four years ago. The results of the two grand jury hearings left Hernandez disillusioned with the legal system that she felt would protect her. On Christmas Day 2015, Hernandez attempted to take her own life.
"I looked terrible, like completely completely destroyed," she said. "He tried to destroy my face; I looked like a monster. It was going to be Christmas and I came home, and I just took a lot of pills from the doctor and tried to fall asleep."
Hernandez survived the suicide attempt but decided she could no longer live in New Braunfels with her attacker free.
"What about if I see him?" Hernandez said. "He had told me he was gonna kill me. I was like, 'I cannot live in the town where someone tried to kill me and just knowing the person is still out there on the streets.'"
Hernandez's experience is not isolated. Violence against trans women is at an all-time high. In Mic's analysis of transgender homicides, intimate partner violence was by far the most common scenario, accounting for 35% of deaths. For trans women, deciding when and how to disclose our trans identities is a matter of life or death.
"I got discriminated because I'm a transgender, because I'm Hispanic, because I didn't have no papers, no immigration papers," Hernandez said. "But I'm a human being and I deserve to have justice."
Check out this episode of Mic Dispatch above — only on Facebook Watch.
To catch future episodes of Mic Dispatch, follow Mic Dispatch on Facebook Watch. For more stories about the show, visit the Mic Dispatch collections page.