Why this Singaporean streetwear designer wants to ditch labels like "Asian fashion"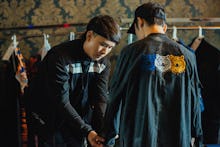 For Amos Ananda Yeo, the designer behind the eponymous Amos Ananda brand, labels like "Asian fashion" or "Singapore fashion" are outdated when referring to his work.
"Singapore is a multiracial country and there is an immense variety of cultures, encompassing a strong fusion of east meets west," Yeo said in an interview. "I often seek inspiration from it and translate them into my designs, presenting them on an international platform that speaks to the consumer."
The 29-year-old designer, originally from Singapore, now splits his time between there and his production studio in Shenzhen, China. Launched in 2014, Amos Ananda first made waves during its international debut at Paris Fashion Week in 2016. A lot of his initial desire to get into fashion was not what he was seeing in the industry, but rather what he wasn't.
"I feel like there is a lack of distinct local identity," he said. "It was always inspiration arriving from overseas that influenced local fashion. It gave me the idea of one day introducing my own vision and stylistic expression to the industry."
Yeo also sought to create clothing that was, as he describes, "cool clothes," that weren't super expensive, with an ultimate vision to blur the lines between streetwear and high fashion. 
Six months after launching, Yeo recalls bringing two large suitcases filled with fabric from Guangzhou, where fabrics are made and sold, back to his home.
"I was just a naive young graduate determined to succeed in pursuit of his vision of launching his debut collection right after graduation," he said. But success was not immediate. "Factory after factory rejected my orders because of the lack of quantity." But Yeo kept at it, perfecting his skills and building a team of people he could trust.
Asked what he wants Americans to better understand about Asian-influenced fashion, Yeo pushed back on the question: "I don't think it's about getting Americans to understand Asian-influenced fashion," he said. "It's working with creatives and designers from all over the world to collaborate and push boundaries to create an international brand and style of fashion that everyone understands. What makes the future exciting is the endless possibilities of being able to work with different people from multiple disciplines to create a unity of intellectual frameworks that speaks to the future generation."
Yeo tested this recently when he teamed up with South Korean visual artist Mina Kwon to create the outfits for all the talent who participated in Tiger Beer's Tiger Roar Collective. Together they outfitted British rapper RoxXxan; Vietnamese-American artist Brandon Mai, aka Tin; and Japanese bucket drummer Masa.
One staple among these looks, and all of Yeo's work, is maintaining a streetwear aesthetic, a style of design that can often be misinterpreted.
"It is no longer a misunderstanding, as the perception of it as cheap has changed," he said. "I have been doing elevated streetwear for over four years and not once changed my DNA. It is not about Amos Ananda, but the whole like-minded community and brands coming together to evolve the value of streetwear in fashion."