Hype Daily: What to watch on Thanksgiving Day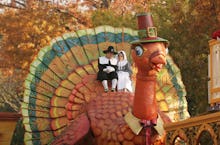 Greetings and happy Thanksgiving to all of you who celebrate! I hope that wherever you are, you're cozy and warm and prepared to enjoy lots and lots of good food. But what else are you going to do all day?
If you're planning on hanging around the television with your family and friends today but don't know what to watch, we're here to help. Here's your very special Thanksgiving episode of Hype Daily, with all your Thanksgiving recommendations.
The Macy's Thanksgiving Day Parade
Is there a more classic Thanksgiving activity than gathering around the TV in the morning to watch the annual Macy's Thanksgiving Day Parade? It's got everything — giant balloons, people braving extreme temperatures, performances from Broadway casts and also the hosts of NBC's Today, usually wearing scarves.
This year's parade will feature "more than 1,000 clowns," according to the official description from NBC, which is honestly too many clowns. There will also be performances from John Legend, Leona Lewis, Martina McBride and Diana Ross, among others. The parade airs live from 9 a.m. to 12 p.m. Eastern on Thanksgiving Day, with an encore presentation from 2 p.m. to 5 p.m.
All the Bob's Burgers Thanksgiving episodes
Forget the Friends Thanksgiving episodes, Bob's Burgers is where it's at for thematic annual specials. Every year, the animated sitcom puts out a fantastic Thanksgiving special, usually centered around the patriarch Bob Belcher's attempts to pull off a perfect turkey. Rewatch any — or all — of the Bob's Burgers Thanksgiving episodes on Hulu this holiday, and then when you're done, check out Mic's list of other noteworthy Thanksgiving TV specials.
A Charlie Brown Thanksgiving
I'm not quite sure how Charlie Brown and the rest of the Peanuts gang became holiday staples for nearly every observance, but obviously A Charlie Brown Thanksgiving, which was first broadcast in 1973, is a classic.
ABC aired the special in its entirety on TV Wednesday night, but if you missed it, you can always buy it on Amazon Prime Video or iTunes. There's nothing revelatory about A Charlie Brown Thanksgiving, but sometimes it's nice to watch things for nostalgia's sake.
Planes, Trains and Automobiles
Frequent Saturday Night Live guest host and comedian Steve Martin has made lots of great movies. And one of those great movies is the 1987 Thanksgiving flick Planes, Trains and Automobiles, which starred Martin as an exasperated man trying to make it home for Thanksgiving with his extremely annoying companion, played by the late, great John Candy. Planes, Trains and Automobiles may not pass the Bechdel test, but it's a holiday movie that holds up. It's also available to stream on Hulu.
Go to the actual movies
In some families (not mine, but some) it's a yearly tradition to head to the movies after finishing up the big Thanksgiving meal. There's a lot of good stuff to see at the multiplex this year, like Creed II, Widows and, if you need a good all-ages movie, Ralph Breaks the Internet. Or you can always find a theater that's still playing A Star Is Born and go see it again. Anyway, enjoy your holiday, everyone! We'll see you next week.
This has been Hype Daily, Mic's morning entertainment roundup. It's everything you need to catch up on in the entertainment world and what to look forward to today. Want to receive this as a daily email in your inbox? Subscribe here.