Trump stands with Saudi crown prince over Khashoggi killing: "Maybe he did and maybe he didn't!"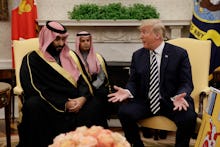 In a stunning statement Tuesday, President Donald Trump announced he is standing with Saudi Arabia — despite U.S. intelligence concluding last week that Crown Prince Mohammed bin Salman ordered the killing of dissident journalist Jamal Khashoggi.
Trump cast doubt on that conclusion in the statement, seeming to accept the regime's denials of wrongdoing, and further attacked the character of the murdered Washington Post columnist.
"The crime against Jamal Khashoggi was a terrible one, and one that our country does not condone," Trump said in the statement. "That being said, we may never know all of the facts surrounding the murder of Mr. Jamal Khashoggi. In any case, our relationship is with the Kingdom of Saudi Arabia. They have been a great ally in our very important fight against Iran. The United States intends to remain a steadfast partner of Saudi Arabia to ensure the interests of our country, Israel and all other partners in the region."
"It is our paramount goal to fully eliminate the threat of terrorism throughout the world!" Trump added in the exclamation point-heavy statement.
Khashoggi went missing in October after entering the Saudi consulate in Istanbul.
Riyadh initially denied involvement in the disappearance, but later admitted that he was killed there — though the regime maintained that MBS, as the crown prince is known, was not involved. The CIA, however, concluded last week that the crown prince ordered the killing of the dissident journalist, and even some Republicans have called on Trump to take a stronger stance against the kingdom's leadership.
Trump, though, has been reluctant to stand up to the longstanding American ally and has appeared to accept the kingdom's shifting stories on Khashoggi. In the statement Tuesday, he said that it "could very well be that the Crown Prince had knowledge of this tragic event."
"Maybe he did and maybe he didn't!" Trump said.
Saudi Arabia has enjoyed a decadeslong special relationship with the United States, despite its poor human rights record. The kingdom's involvement in Yemen — with U.S. support — has drawn particular scrutiny recently. Trump in his statement Tuesday also seemed to continue to back Saudi Arabia's brutal activities in Yemen, and emphasized that it was important to remain allied with the country because "world is a very dangerous place!"
"As President of the United States I intend to ensure that, in a very dangerous world, America is pursuing its national interests and vigorously contesting countries that wish to do us harm," Trump said. "Very simply it is called America First!"