In looking the other way on Saudi Arabia, Trump again shows he will always side with the strongmen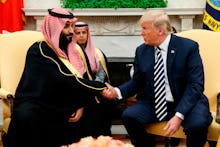 President Donald Trump on Tuesday offered his full support to Saudi Arabian leadership, dismissing American intelligence conclusions that Crown Prince Mohammed bin Salman was behind the October killing of dissident journalist Jamal Khashoggi.
"King Salman and Crown Prince Mohammad bin Salman vigorously deny any knowledge of the planning or execution of the murder of Mr. Khashoggi," Trump said in a statement Tuesday. "Our intelligence agencies continue to assess all information, but it could very well be that the Crown Prince had knowledge of this tragic event — maybe he did and maybe he didn't!"
"The United States intends to remain a steadfast partner of Saudi Arabia," Trump added.
It was a stunning move, but perhaps not surprising, given Trump's history of siding with strongmen — often over American officials — and excusing their misdeeds.
The most prominent example, perhaps, is his warm stance toward Russian President Vladimir Putin — who American intelligence says directed Moscow's meddling effort in the 2016 U.S. election.
Trump has cast doubt on that conclusion, suggesting he takes Putin's word over his own officials, and has been reluctant to stand up to the Russian president over his malign activity. What's more, Trump has excused Putin's 2014 invasion of Crimea, repeatedly blaming former President Barack Obama for allowing it to happen.
"President Obama lost Crimea," Trump said in June, during an impromptu press conference in which he called for Russia to be reinstated to the G8.
When directly asked by Bill O'Reilly about Putin's human rights abuses in early 2017, Trump downplayed the Russian authoritarian's apparent extrajudicial killings.
"There are a lot of killers," Trump said. "You think our country's so innocent?"
His long-running defense of Putin is not an outlier.
On the contrary, he has shown a reverence for a number of dictators and authoritarian regimes across the globe, and he has pushed for stronger relationships with those strongmen in spite of blatant human rights abuses.
Though he spent the first part of his presidency locked in a bitter feud with Kim Jong Un, he has since "[fallen] in love" with the North Korean dictator and praised him after the Singapore summit in June as someone "who wants to see wonderful things for his country."
Trump, who echoed North Korea's characterization of U.S.-South Korean military exercises as "war games" at the summit, did not mention that Kim's regime is one of the most repressive in the world and that it has long been engaged in egregious crimes against humanity, including in its overseeing of deadly prison camps.
Trump has also offered praise to Philippine strongman Rodrigo Duterte, Chinese President Xi Jinping and other authoritarian leaders, frequently while downplaying or wholly ignoring their human rights records.
There are several potential reasons why he continues to embrace so many of his more authoritarian counterparts abroad.
In the case of Russia, it's possible that he has continued to side with Putin because his own political interests are tied to the Russian strongman. The Kremlin intervened in 2016, after all, apparently with the goal of getting Trump elected — and special counsel Robert Mueller is continuing to investigate if Trump or his campaign conspired with the Russians to throw the election.
Trump also has documented business interests in Russia, Saudi Arabia and several of the other countries whose problematic leaders he has praised, as NPR noted in 2017, possibly giving him a financial motivation not to hold some human rights abusers accountable.
Finally, it has been suggested that Trump — who has authoritarian tendencies of his own, including in his incitements to violence and his relentless attacks on the free press — may seem to admire autocrats because he aspires to be one himself.
Whatever the reason, the president is now indicating that he will not punish the Saudi crown prince and will continue to stand by the kingdom, even in the wake of the Khashoggi killing in October and the regime's ongoing horrific human rights abuses in Yemen — regardless of what U.S. intelligence may find.
Why won't he break with Saudi Arabia, regardless of its culpability in the execution of an American resident?
Because of U.S. "interests," he said in the statement Tuesday.
"As President of the United States I intend to ensure that, in a very dangerous world, America is pursuing its national interests and vigorously contesting countries that wish to do us harm," Trump said. "Very simply it is called America First!"