Megyn Kelly will reportedly get her full $30 million payout from NBC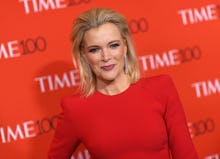 Departing Today host and former Fox personality Megyn Kelly will reportedly leave with a $30 million payout from NBC after her comments seeming to defend blackface in October — at least according to a new report from Page Six. Sources told the tabloid that Kelly is in the midst of negotiating a massive exit deal.
"Everyone wants this to be over — both Megyn and NBC — and Comcast has the money to pay off Megyn," an unnamed source told Page Six on Tuesday. "We thought this would be a done deal a few weeks ago."
Kelly, who hosted the 9 a.m. hour of NBC's Today, got herself booted from the morning show after her comments about blackface during an episode in October. "You do get in trouble if you're a white person who puts on blackface on Halloween or a black person who puts on white face for Halloween," she told an on-air panel on the Oct. 23 episode. "Back when I was a kid, that was OK as long as you were dressing up as a character."
Her comments spurred a massive outcry from everyone who understands why, exactly, blackface is so egregious — including her colleague, Today's Al Roker.
A day later, Kelly apologized, opening her show by saying, "I'm Megyn Kelly and I want to begin with two words: I'm sorry. You may have heard yesterday that we had a discussion here about political correctness and Halloween costumes. And that conversation turned to whether it is ever OK for a person of one race to dress up as another. ... I defended the idea, saying as long as it was respectful and part of the Halloween costume, it seemed OK. Well, I was wrong and I am sorry."
Her apology earned her a standing ovation from the studio audience — but it wasn't enough to salvage her show. Kelly didn't appear for new episodes on the Thursday and Friday following her apology episode — and on that Friday, NBC confirmed it was canceling her hour of Today.
Ratings for Today have risen since Kelly's departure, and since her fellow co-hosts took over her 9 a.m. hour, but it seems like despite the reason for her exit, Kelly will still walk away from NBC with a massive payday.