Mic Daily: Trump stands with Saudi Arabia over Jamal Khashoggi's death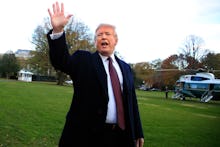 Good evening, Mic readers. At our New York City offices on Tuesday, we're marking Transgender Day of Remembrance — a day to acknowledge transgender lives lost by anti-trans violence — by hosting a panel of experts who will discuss issues and opportunities facing the trans community. Check out our Twitter and Instagram for updates from the event throughout the night.
Here are the top five stories out of Mic today.
Women's March leaders say they're not stepping down despite calls to do so from critics
Some members of the Women's March board have been dogged by their alleged political affiliations as of late, leading for calls — including from the founder of the march — for these members of the board to step down. They aren't budging. Read more.
In looking the other way on Saudi Arabia, Trump again shows he will always side with the strongmen
President Donald Trump on Tuesday backed Saudi Arabian leadership, saying Crown Prince Mohammad bin Salman could have been aware of plans to kill dissident journalist Jamal Khashoggi, "and maybe he didn't!" According to Mic's Eric Lutz, this is just the latest in an all-too-common pattern of Trump's behavior: Sucking up to strongmen. Read more.
The killing of Dr. Tamara O'Neal reflects the alarming stats about black women and domestic violence
More than 40% of black women experience intimate partner violence during their lifetimes — compared to 31.5% of all women. Read more.
There's a story the movie 'Green Book' doesn't tell that audiences also need to hear
Green Book, a new movie in theaters nationwide on Wednesday, borrows its name from a very real series of books, the Negro Motorist's Green Book. They provided resources for black Americans in the '30s and beyond who sought to travel the country not just enjoyably — but safely. And the movie adaptation misses the importance of that history, according to Mic's Chauncey Alcorn. Read more.
Donald Trump claims to love the military. So why can't he stop disrespecting veterans?
Trump has continually attacked Adm. Bill McRaven — and it's still odd as hell. Read more.
Mic Daily is Mic's newsletter that cuts through the noise and lands in your inbox every weekday. We carefully curate each edition to send you a cross section of our most vital stories of the day.