Park City, Utah, has the "greatest snow on Earth" — but there's tons to do in the summer, too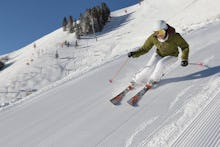 Utah is home to more than a dozen world-class ski resorts, two of which are in Park City, where snow sports are a given. Here, you'll have your pick between Park City Mountain and Deer Valley Resort, both of which are easily accessible by a free bus ride. You can't go wrong with either — one atmospheric scientist said the particular climate conditions in Utah create the "greatest snow on Earth" — but know Deer Valley is considered a skier's paradise, as no snowboards are permitted.
Even the most avid skier has to descend from the mountain at some point. Fortunately, there's plenty of food and entertainment on Main Street. Defrost at Alpine Distilling's new Gin Experience, where you'll be served a four-course dinner while learning about the intricacies of gin distilling hands-on — plus, you'll bottle your own gin.
If you prefer something a little more casual, decompress at Hearth and Hill, expected to open in mid-December, where your group can drink beer, make your own Old-Fashioned cocktails and fill up on shared plates like gyoza, spinach artichoke flatbread and chicken wings. There's something for everyone here, so whether it's a warming bowl of ramen you're after or a hearty burger with a side of truffle mac 'n cheese, you'll be well-refueled for the mountain tomorrow.
Don't make the mistake of writing off Park City as a solely winter destination. Year-round, yogis can tackle new challenges in some of the most inspiring settings with help from Park City Yoga Adventures. Practice some paddleboard yoga in the geothermal Homestead Crater, where, if you lose your balance, you'll fall into the comfort of 90- to 96-degree mineral water. Or sign up for a silk class, where after an hourlong hike you'll perform a different kind of tree pose using yoga silks suspended from trees. If you're still pining for the slopes even without the snow, Park City's hundreds of miles of trails are lush and green in the summer — and great for a mountain biking adventure.
How Park City is green year-round
You never have to worry about parking when visiting Park City. The city's free bus system makes getting around easy. Better yet, all of the buses are electric, zero-emission, energy-efficient vehicles. The community is constantly making changes to decrease its energy consumption and be gentler on the planet.
A must-try dessert
Even if you're not sleeping there, be kind to yourself by tasting the strawberry shortcake ice cream s'more at the Waldorf Astoria. The dessert is a work of art that tastes as good as it looks. Housemade strawberry ice cream is dipped in white chocolate and shortcake crumble, and then encased in marshmallow flavored with vanilla bean. The whole concoction is torched and then sandwiched between two homemade graham crackers.
Summer savings
Summer in Park City is just as fun as winter. Hotels can be up to 70% cheaper in the off-season, and the snow-free mountain resorts host a ton of events and concerts, many of which are free. It's a great time to fully appreciate the expansive beauty of the state — and you can even do so from the spectacular perspective of a hot air balloon, if you wish.
For more of Mic's Best Places to Travel in 2019, explore our map or view the complete list here.