Today in Trump's America: Trump wanted the Justice Department to prosecute Clinton and Comey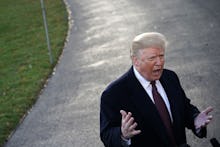 Well, as predicted, Tuesday was another insane day in Trump's America.
We learned Trump ordered the Justice Department to prosecute Hillary Clinton and former FBI Director James Comey, but he was talked down by the now-former White House counsel, who told Trump such a move could lead to his impeachment.
And in the House, a small faction of House Democrats seeking to prevent Nancy Pelosi from once again wielding the Speaker's gavel was dealt a tough blow, when the candidate they wanted to challenge Pelosi dropped out of the running and endorsed Pelosi's bid.
Wednesday could be equally as crazy, as it's the day before a major holiday and politicians may try to bury their bad news by dropping it when the public tunes out to spend time with family.
Here's what's happening in Trump's America:
• Trump is in Florida at his Mar-a-Lago resort, where he'll spend Thanksgiving weekend. There are no public events on his schedule.
About last night: Trump wanted to prosecute Clinton, Comey
The New York Times dropped a bombshell Tuesday evening, when it reported Trump attempted to get the Department of Justice to prosecute two of his fiercest rivals: 2016 Democratic nominee Hillary Clinton and former FBI Director James Comey.
However, Trump was talked down from making that call by now former White House counsel Don McGahn, who told Trump the president does not have the power to order someone to be prosecuted. McGahn also told Trump that even ordering an investigation of Clinton and Comey would lead to abuse of power accusations and had White House lawyers pen a memo outlining the consequences Trump could face if he ordered either a prosecution or an investigation.
Trump continues to talk in private about prosecuting and investigating Clinton and Comey and has reportedly "expressed disappointment" that FBI Director Chris Wray is not investigating Clinton "more aggressively," the New York Times reported.
The news about Trump's desire to knock down the walls of the independent Justice Department emerged as Trump got rid of Attorney General Jeff Sessions and replaced him with Matthew Whitaker, a political loyalist. Democrats say Whitaker's appointment is unconstitutional, and they fear he was brought on to thwart special counsel Robert Mueller's investigation.
Today in Trump's America: Anti-Pelosi Dems back at square one
A group of House Democrats waging an effort to prevent Nancy Pelosi from once again becoming House speaker was dealt a significant setback on Tuesday, when its leading candidate to challenge Pelosi for the gavel dropped out of the race and endorsed Pelosi's bid.
Rep. Marcia Fudge (D-Ohio) — whom the contingent of anti-Pelosi Democrats were pushing to run — will instead chair a House subcommittee that oversees elections, a role Pelosi would appoint her to if Pelosi becomes speaker.
Fudge's decision to drop out of the speaker's race came after a letter Fudge wrote to a judge in 2015 surfaced. In the letter, Fudge asked for leniency in sentencing for former Judge Lance Mason — who admitted to beating his ex-wife, Aisha Fraser, so bad she needed facial reconstructive surgery, a crime he served nine months in jail for committing.
On Saturday, Mason was once again taken into custody on suspicion of murdering Fraser, who was found stabbed to death.
"My support of Lance in 2015 was based on the person I knew for almost 30 years — an accomplished lawyer, prosecutor, state legislator and judge. That's the Lance Mason I supported," Fudge said Tuesday in a statement. "The person who committed these crimes is not the Lance Mason familiar to me. They were horrific crimes, and I condemn them."
Without Fudge, the anti-Pelosi rebels must now find another member to challenge Pelosi for the gavel if they want to prevent her from becoming speaker.
So far, no one has stepped forward, and the group of 16 Democrats who signed a letter opposing Pelosi's bid are back to square one.
House Democrats are slated to vote next week on their nominees for speaker and other top leadership roles. Pelosi is expected to easily win the vote from the Democratic conference. However that is only the first step to becoming speaker. Pelosi would also have to win a vote before the full House — Republicans and Democrats — after the new Congress is sworn in next year.
And the rest...
Score another one for Democrats: House Democrats picked up another seat Tuesday night, when Utah's 4th District was called for Ben McAdams, who defeated GOP Rep. Mia Love by 739 votes.
Love was a rising star within the GOP, after she made history in 2014 when she became the first black female Republican elected to Congress. Her loss also leaves Republicans with one less woman in their ranks. The GOP started the cycle with 23 women in the House, but when the new Congress is sworn in it'll have just 13.
With McAdams' win, Democrats have now picked up 38 seats in the House. Democrats currently lead in another uncalled race, New York's 22nd District, which would bring their total number of House pick-ups to 39 — far higher than the 23 seats the party needed to win back control of the lower chamber of Congress. And, the number could climb to 40, as GOP Rep. David Valadao's margin continues to shrink in California's 21st District.
Sorry: Sen. Cindy Hyde-Smith — a Mississippi Republican facing a runoff on Tuesday — apologized at a debate Tuesday night for a comment she made saying she would enthusiastically attend a "public hanging."
"You know, for anyone that was offended by my comments, I certainly apologize. There was no ill will, no intent whatsoever in my statements," Hyde-Smith said at a debate with her opponent, Democrat Mike Espy.
The comment has dogged her bid over the last week, as Espy is black and Mississippi has an ugly racial history of lynchings.