Hype Daily: Jude Law defends Woody Allen and more entertainment news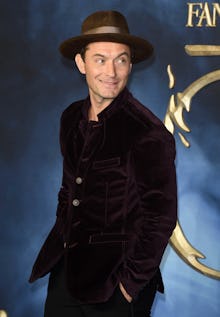 Good morning and welcome to Hype Daily, our regular entertainment news roundup. Tomorrow we'll have a very special Thanksgiving edition for you, but for today, enjoy our normal menu of news from Hollywood and beyond.
Jude Law says it's "a terrible shame" Woody Allen's new movie was indefinitely shelved
Actor Jude Law, who is currently doing press for his new Harry Potter-adjacent film Fantastic Beasts: The Crimes of Grindelwald, thinks it's a shame Woody Allen's latest film was shelved by Amazon.
"It's a terrible shame. I'd love to see it. People worked really hard and put a lot in, obviously himself included," Law told the New York Times in a recent interview, speaking about Allen's movie A Rainy Day in New York, which he starred in. The film was shot in 2017, but Amazon decided to postpone its release after more and more people within the industry came forward to condemn Allen for the decades-old molestation allegations against him from his own daughter, Dylan Farrow.
When asked about those allegations in the Times interview, Law hedged. "I didn't really want to get involved, to be honest," he said. "I just don't feel like it was my place to comment, and it's too delicate a situation. I feel like enough has been said about it. It's a private affair. [As for working with Allen again], I don't know. I'd have to consider carefully."
Jaden Smith and Tyler, the Creator might be dating
Celeb offspring Jaden Smith and rapper Tyler, the Creator might be dating. At a recent concert, Smith told the crowd, "I just want to say ... Tyler, the Creator is my motherfucking boyfriend, and he's been my motherfucking boyfriend my whole fucking life." The moment was captured on video, and in it, Smith seems to be earnest but Tyler, the Creator is shaking his head and waving his arms "no," so it left a lot of people confused... are they or aren't they?
But in a recent radio appearance Smith said, "I recently said that Tyler, the Creator is my boyfriend, and that's true. ... So, just so you know," CNN reported. So it seems like they're together — congrats, you crazy kids!
A Northern Exposure reboot is in the works
Reboot mania has claimed its latest victim. Variety reported on Tuesday that CBS is developing a reboot of Northern Exposure, the early '90s drama about a doctor who is forced to take a job in a tiny, eccentric town in Alaska. Show star Rob Morrow will reportedly again play Dr. Joel Fleischman, who will return to the town of Cicely, Alaska, for a funeral and find himself again surrounded by its quirky residents. There's no word yet on which of the show's other original cast members will return for the reboot.
The first trailer for The Lego Movie 2 is here
The first trailer for The Lego Movie 2: The Second Part dropped on Tuesday. It's, of course, the followup to 2014's delightful Lego Movie. The sequel revisits Emmet, voiced by Chris Pratt, a hapless Lego guy living in a Lego world who got pulled into a different big adventure in the first film.
This time he has to save Wyldstyle (Elizabeth Banks) and other friends who've been kidnapped by Sweet Mayhem (Stephanie Beatriz). Check out the trailer here. The Lego Movie 2 hits theaters on Feb. 8.
Put this on your radar: The Final Table
Looking for a new cooking show to get addicted to this Thanksgiving? Check out The Final Table, a new "global culinary competition show" from Netflix that premiered on Tuesday. According to the official Netflix description, "The series features 12 teams of two chefs from around the world cooking the national dishes of Mexico, Spain, England, Brazil, France, Japan, the U.S., India and Italy," and they're all competing for a spot at the final table. Get it? Check out a trailer here.
This has been Hype Daily, Mic's morning entertainment roundup. It's everything you need to catch up on in the entertainment world and what to look forward to today. Want to receive this as a daily email in your inbox? Subscribe here.