All the best Black Friday and Cyber Monday deals for clothing, electronics, home goods and more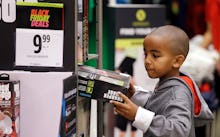 It was an instant classic Saturday Night Live sketch. In November 2010, SNL aired a faux commercial in which an increasingly frenzied Bobby Moynihan announces deals about upcoming Black Friday deals at a place called Mini Mart. He describes a hellscape of freshly mopped floors, where customers are given caffeine and boxcutters at the door before they stampede each other for a cheaper iPad. "No one can hear you scream!" he screeches.
Unfortunately, the scene he was describing isn't too far off from reality. In 2017, one man shattered a hip fighting in a Kmart at a Black Friday sale, while one man was shot and another stabbed at a sale; a site called BlackFridayDeathCount.com tracks the actual carnage of this day.
One way to avoid this particular brand of madness? Stay calm and don't start fights with your fellow shoppers. Another way is to arm yourself with knowledge of the deals and try to create some sort of plan. And of course, you could avoid the danger all together by waiting for Cyber Monday and shopping from the safety of your couch. Just make sure you're disposing of all the packaging in the smartest way possible.
The Big Guys
Amazon has millions of deals, organized by department, and is offering free shipping.
Target is offering sales on clothes, electronics, Christmas trees and a general 25% off home items.
Walmart has deals on iPhones, Fitbits, smart TVs, drones and so much more.
Clothes
Bonobos is up to 30% off sitewide with code DEALWEEK.
Draper James is giving 25% off entire purchases.
JCrew is up to 40% off items with code TOGETHER.
Lord & Taylor is offering up to 20% off regularly priced items and some sale items.
Macys has more than 80,000 items on sale now in doorbuster deals.
Nordstrom is offering up to 60% off thousands of items.
Old Navy is offering 50% your entire purchase.
Topshop is giving 50% off coats and jacket and 30% off jeans.
Electronics
Apple is offering free shipping, and has a special (secret!) sale starting on Friday.
Best Buy has hundreds of dollars off TVs and laptops, 40% off select Samsung appliances and so much more.
HP is offering up to 57% off so me items, with free shipping.
Microsoft offers $300 some laptops and $100 off Xbox consoles, among other deals.
Home
Big Lots has hundreds of items on sale here. Shipping is free over $75.
Birch Lane is up to 80% off, and is offering new deals every day of the weekend.
Etsy has thousands of sellers offering deals.
Joss & Main has rounded up tons of sale items by category, with free shipping sitewide.
Overstock has items up to 70% off, with free shipping.
Pottery Barn has deals like 50% off bedroom furniture and 20% off armchairs.
Sur La Table is offering up to 75% off items. Shipping is free over $59 with code SHIPFREE.
Wayfair is offering up to 70% off living room and bedroom furniture, and 80% off area rugs.
West Elm offers more discounts the more you save: 15% off when you spend $100+, up to 30% off when you spend $3,000+.
And if you're looking to do some ethical shopping, EcoCult has a great list of deals from sustainable companies.