New study finds that '13 Reasons Why' may have increased the risk of teen suicide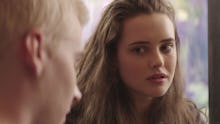 A new study from researchers at the University of Michigan examined teens' reactions to the Netflix show 13 Reasons Why — and found that viewing it may have increased the risk of teen suicide.
The study, published online Tuesday in the journal Psychiatric Services, examined 87 teens who had entered "a psychiatric emergency department with suicide-related concerns in the year after the series' premiere." It found that, of those 87 teens, 49% had seen at least one episode of the first season of 13 Reasons Why. And of the teens who had seen it, 51% said they believed that the show "increased their suicide risk."
The show, which has aired two seasons on Netflix, first premiered in 2017. Its first season, which followed a teen uncovering the "reasons" for a friend's death by suicide through a series of audio tapes she left behind, spurred concerns that the plot glamorized teen suicide. And experts warned that the show failed to directly address mental illness and only served to increase stigma around depression and suicidal thoughts.
In March, Netflix said it was adding custom warnings before episodes of the show, and directed teen viewers and their parents to resources to help them handle the show's content, the Washington Post reported at the time.
In a statement announcing the changes, Brian Wright, Netflix's vice president of original series, said, "Soon after the season one launch, we saw global conversation explode on the controversial topics covered by the series and understood we had a responsibility to support these important discussions."
Dr. Victor Hong, the lead author of the new study on the show's impact, told BuzzFeed News that the researchers were moved to undertake the study after hearing from teens that the series "was a real factor in why their suicidality or depression had worsened."
Hong also said the show seemed to simplify the character's mental health issues without offering any suggestion that seeking help might have been possible. "The main character is bullied, she is sexually assaulted and what it's portrayed as is that there's a sort of inevitability to her suicide ... rather than displaying a sort of resilience or perhaps that there are adults in people's lives that can help," Hong said.
Editor's note: For information about suicide prevention or to speak with someone confidentially, contact the National Suicide Prevention Lifeline at 1 (800) 273-8255 or the Crisis Text Line at 741-741. Both provide free, anonymous support 24 hours a day, seven days a week.