Mic Daily: Betsy DeVos' predecessor speaks out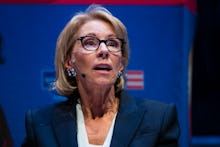 Good evening, Mic readers, and happy Thanksgiving eve! We're going to take a break from sending out this newsletter until Monday, so we'll see you back here in a few days. Enjoy the holiday weekend.
Here are the top five stories out of Mic today.
Judge strikes down Mississippi's 15-week abortion ban, says state's defense is "pure gaslighting"
U.S. District Judge Carlton W. Reeves struck down Mississippi's abortion ban in a refreshingly sober, scalding ruling. Reeves, among many other things, said the law was "closer to the old Mississippi ... that, in Fannie Lou Hamer's reporting, sterilized 6 out of 10 black women in Sunflower County at the local hospital — against their will." Read more.
Transgender woman Aliah Hernandez was brutally beaten and left for dead. Her attacker walked free.
In honor of Transgender Day of Remembrance on Tuesday, I urge you all to watch the newest episode of Mic Dispatch, our video series on Facebook Watch. The latest episode profiles Aliah Hernandez, a transgender woman who was brutally beaten when she disclosed her identity to a man who showed romantic interest in her. Read more.
Betsy DeVos' predecessor says new Title IX rules will dissuade victims from reporting sexual assault
Education Secretary Betsy DeVos recently announced plans to expand the rights for those accused of sexual harassment — and now, her Obama-era predecessor is speaking out. Read more.
How to keep your excessive Amazon habit from destroying the planet
The holidays are nigh, which means you're about to be drowning in Amazon packaging. Mic's own Kate Bratskeir has advice on the best ways to dispose of all that garbage. Read more.
New study finds that '13 Reasons Why' may have increased the risk of teen suicide
Netflix's teen drama 13 Reasons Why has been at the center of controversies regarding its depiction of suicide before — and a new study isn't likely to help its reputation. Read more.
Mic Daily is Mic's newsletter that cuts through the noise and lands in your inbox every weekday. We carefully curate each edition to send you a cross section of our most vital stories of the day.