Pelosi remains popular with Democratic voters, even as she battles her own party to become speaker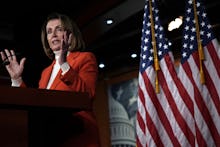 In the wake of Democrats gaining control of the U.S. House of Representatives in the midterm elections, a new battle has emerged over speaker of the House, as some Democrats have vowed to oppose current Minority Leader Rep. Nancy Pelosi (D-Calif.).
Sixteen House Democrats, including some who were just elected on November 7, signed a letter Monday opposing Pelosi, in which the lawmakers said they are "committed to voting for new leadership in both our Caucus meeting and the House Floor." Pelosi, who previously served as speaker of the House when Democrats last held a majority, needs 218 votes to become speaker; Democrats are currently set to hold at least 232 seats in the House.
"In this recent election, Democrats ran and won on a message of change," the lawmakers wrote. "Our majority came on the backs of candidates who said they would support new leadership because voters in hard-won districts, and across the country, want to see real change in Washington. We promised to change the status quo, and we intend to deliver on that promise."
Despite the lawmakers' claims, however, Pelosi's speaker bid is actually popular with the majority of Democratic voters. A Quinnipiac University poll released Tuesday found that 53% of Democrats and Democratic leaners supported Pelosi as speaker, as compared with 27% who opposed it. A separate CBS News poll found 49% Democrats supported Pelosi's speaker bid, while 40% would prefer a different candidate, and a Politico/Morning Consult poll released Wednesday put Pelosi's favorable rating among Democrats at 52%.
Pelosi remains less popular among the general electorate; only 30% of total respondents to the CBS News poll supported her potential leadership, as compared with 57% who preferred another Democrat.
The House Democrats opposing Pelosi, meanwhile, are largely moderate Democrats who have more found more common ground with Republicans than Pelosi, who Mother Jones rated as one of the House's more progressive members.
According to data from FiveThirtyEight cited by ThinkProgress, 10 of the 11 incumbent House Democrats who signed Monday's letter have voted with President Donald Trump more often than Pelosi, who has only voted with Trump 19.3% of the time. The sole exception is California Rep. Linda Sánchez, who FiveThirtyEight calculated has voted with Trump just 14.4% of the time.
Trump himself has endorsed Pelosi, saying on Twitter Saturday that the lawmaker "deserves this victory." Pelosi has also won support from many of her Democratic colleagues, including more progressive politicians like incoming Congresswoman Alexandria Ocasio-Cortez.
Though these Democrats are committed to opposing Pelosi, however, no candidate has yet emerged to challenge the veteran lawmaker. Rep. Marcia Fudge, who was considering a potential speaker bid, reversed course and endorsed Pelosi Tuesday night.
Pelosi vowed to reinstate the Elections Subcommittee of the Committee on House Administration and make Fudge the subcommittee's chair. In a statement, Fudge said Pelosi had assured her that black women "will have a seat at the decision-making table" and that Fudge would be able to work to ensure "the protections of the Voting Rights Act will be reinstated and improved."
"Last week I announced that I was strongly considering a run for speaker of the House," Fudge said. "My consideration was due in large part to the lack of sustained efforts that ensure diversity, equity and inclusion at all levels of the House. Further, despite the great success we experienced on November 6, voter protection and voter integrity are still at risk.
"I am now confident that we will move forward together and that the 116th Congress will be a Congress of which we can all be proud," Fudge added. "I now join my colleagues in support of the leadership team of Pelosi, Hoyer and Clyburn."
Pelosi's opposing faction only has a few days to come up with a potential challenger. Democrats are set to vote for a speaker candidate Nov. 28 in a private meeting, which will only require a majority of Democratic lawmakers to pass. The candidate will then proceed to a full floor vote Jan. 3 to become House speaker.
So far, the veteran California lawmaker has remained confident she will regain the speaker of the House title.
"I have overwhelming support in my caucus to be speaker of the House," Pelosi recently told reporters, as quoted by USA Today. "I happen to think that, at this point, I'm the best person for that."