This Brooklyn community activist is determined to get justice for Ann Marie Washington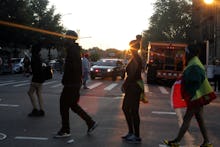 One day after the brutal stabbing of Ann Marie Washington, a black woman, at a New York City subway station, community activist Anthony Beckford said he received dozens of Facebook messages about the incident. Citizens sent him a viral video, captured by Kezia Bernard-Nau, that showed Washington standing outside the subway station recounting the assault to bystanders and police.
As the leader of the Brooklyn sector of Copwatch Patrol Unit, Beckford is a first responder to violent community incidents related to civil rights violations and police brutality. After watching the footage, Beckford immediately contacted local officials and called for a press conference to demand police investigate the incident as a hate crime.
"If we didn't put out the call for it to be a hate crime, they wouldn't even have considered a hate crime investigation," Beckford said in a phone interview.
Beckford said Bernard-Nau introduced him to Washington and her family in the days following the stabbing. He has since vowed to advocate for them during the investigation.
"I've been there to make sure if they're having any trauma mentally, to help them through it," Beckford said. "I will be there until we catch this man."
The work of Beckford, Bernard-Nau and other community members in the Brooklyn neighborhood of Flatbush is dedicated to helping Washington get justice and help ensure her story is not forgotten.
Washington was punched in the face and stabbed at a subway platform in the Flatbush area of Brooklyn, New York City, on Nov. 9. The 57-year-old mother described her assailant as a 5-foot-5-inch white man, who also called her a "black bitch," the New York Post reported. Washington went home after her attack but underwent emergency surgery two days later for a collapsed lung as a result of her injuries, according to NBC 4 New York.
Hate crimes in the U.S. increased by 17% in 2017, according to a recent FBI report. Most hate crime victims are black. The NAACP has connected the rise in hate crimes with President Donald Trump's "xenophobic rhetoric and racist policies."
Beckford and community members have been posting copies of the suspect's sketch at the Church Avenue train station, where the incident occurred, and other nearby stations. They've been patrolling the area and walking women to nearby bus stops or to their homes after they exit the station. Equality for Flatbush, a local advocacy group addressing issues such as excessive policing and gentrification, is also helping to spread the word. A reward of up to $7,500 is currently being offered for information about the assault.
Although the NYPD is currently investigating Washington's stabbing as a hate crime, Beckford still has many concerns about how authorities have handled Washington's case.
"If the NYPD was working on something, we would've had video footage from every single platform after Church Avenue going toward Coney Island," Beckford said, referring to the direction the suspect reportedly went after the attack. "We would've had identification of this person right away. It irritates me but it doesn't really surprise me, especially with this being mostly a black Caribbean community. How they interact with us and how they come about our investigations, it's unjust."
Beckford claimed a Metropolitan Transportation Authority clerk at the station didn't follow protocol by calling 911 after Washington was stabbed. He also wonders why medical responders who checked Washington's vitals released her from care the same evening.
Washington, who is still recovering, has yet to give interviews to news organizations. Her family has taken a step back from the media, Beckford said, "because this experience has been overwhelming for them and they didn't receive the justice that they needed."
Washington's assault by an alleged white man comes after another high-profile incident in the Flatbush area in October, when a white woman falsely accused a 13-year-old boy of sexual assault in a corner store. Gentrification can also add to these anxieties, as there's been an increase in 311 and 911 calls — informally known as #LivingWhileBlack incidents — made in gentrifying neighborhoods to report so-called suspicious activity by black people.
Despite the apparent increase in these incidents, Beckford said he and other community leaders will continue assuring local black residents about their safety. To keep the conversation going, he is planning town halls that will address hate crimes, housing and youth-related issues. But ultimately, he wants Washington's assailant caught.
"I want for this attacker, this coward, to be caught and prosecuted," Beckford said. "I want that to be a message to the rest of these cowards that we're not tolerating it. I don't care how much of a motivator that Trump may be to them right now."