London's best pubs have a secret Thai restaurant hidden inside them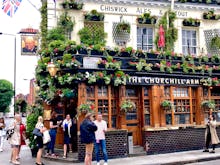 LONDON — At first, there's nothing about The Kings Arms that suggests it's anything more than a nice little British pub. I wandered in one night not expecting much more than an after-work drink by Waterloo in South London. It was only when I went to the bar for the second round that I spotted a discreet sign pointing toward the back: Kanchana's Kitchen. Following its direction, I was thrilled to find the pub open up into a Thai restaurant, bustling with people enjoying a gaeng panang or a pad see ew along with their pints.
To find a Thai kitchen inside an old-fashioned London pub is a wonderful surprise, but it's not actually that unusual. There's rarely much advertisement outside though, so most people who know that London pubs serve great Thai food find out from friends — or happen upon it by chance.
There doesn't seem to be any definitive numbers as to how many London pubs have Thai kitchens. I've stumbled across a handful and heard of a dozen or two more, like The Pineapple in Kentish Town, Latymers in Hammersmith, and The Faltering Fullback by Finsbury Park. While the total number might be anyone's guess, it's sufficiently widespread and London pub-goers won't find it odd to see a Thai menu on the table. Yet outside of the capital, Thai food in pubs is practically unheard of. So where did this mashup come from?
The answer to that question is almost certainly The Churchill Arms in Kensington, West London. This exquisitely eccentric, low-lit pub from 1750 is crammed with flowers, plants and Winston Churchill memorabilia, with a Thai kitchen in a conservatory garden at the back. James Keogh, general manager of The Churchill Arms, said he believes they were the first to serve Thai food in 1988, when it was neither common nor popular in London. This was my very first encounter with this culinary quirk too, when I worked in a nearby office with a Friday lunchtime pad thai tradition.
Keogh was busy decorating the pub with Christmas trees when I called him, after having stopped by for dinner the night before. He talks about the Thai food (the only food served at the pub) with enthusiasm: "The story goes like this. A gentleman, a Thai chef called Ben, came into the pub one day and talked to Gerry," Keogh said, referring to Gerry O'Brien, the longstanding proprietor of The Churchill Arms who retired in 2017. "The chef told Gerry he wanted to open a Thai restaurant. At first Gerry thought, 'What, Thai food? In an English pub? That won't work!'"
Keogh laughed — he's been at the pub for the past five years, but had a brief stint there back when the pub served English food with far less success. "Gerry figured he had nothing to lose, so he gave it a go. Since that day, we've never looked back." A few years in, Khoyachai Sampaothong, who goes by Pal, took over the kitchen and still runs it today with a staff of 23. Similar to other Thai kitchens in London pubs, her staff is almost exclusively Thai. (There are about 41,000 people from Thailand living in the U.K., according to the 2011 census.)
While Thai food is now well established as London pub food, most pubs still serve traditional British food — things like fish and chips, steak and kidney pie, sausage rolls, Scotch eggs, Sunday roasts and maybe the occasional curry. Johnny Homer, a British pub writer whose latest book East End Pubs was published in November, said Thai food started becoming common in London in the 1990s. "There was a period into the 2000s when it seemed every other London boozer was selling Thai grub," Homer said in an email. Homer has fond memories of the Thai food at The Windmill, a pub near Waterloo: "I've eaten at a lot of Thai restaurants, but the food [there] was better than any restaurant Thai food." The Windmill still serves a few Thai dishes, although its menu is now mostly British. "A lot of the Thai food served in London pubs was nowhere near as good," Homer said. "Landlords and breweries jumped on the bandwagon — they always do — and the quality and authenticity of the food suffered as a result."
But the best London pub Thai holds its own against dedicated restaurants, despite often being made in smaller kitchens that may limit the menu somewhat. In Stoke Newington, the Thai kitchen at Coach & Horses competes with one of the best Thai restaurants in the city that's just up the road, and the food is still popular. Last Saturday, I went back to The Kings Arms for the first time since they expanded the kitchen, and had one of the best pad kee mao meals I've ever had, next to perfectly spicy prawn crackers.
The division between pub and Thai kitchen seems to work mostly the same across London: The restaurant pays rent for the kitchen and collects the money for the food, while drinks are bought at the bar. That's how it works at The Churchill Arms, as well as at Coach & Horses, where the Thai food is served not in a separate space, but at the tables in the main pub. Nattsakan Reed, who goes by Pun, used to be a waitress at Coach & Horses before taking over the kitchen operations three years ago. "It's the best thing I've done in my life," Reed said over the phone, explaining how she has a good relationship with the pub owners who let her run things the way she wants. The kitchen currently has a staff of three: "They have to be Thai. We tried to have others, but they didn't understand the ingredients and how to make the food." Reed has been in the Stoke Newington area for 12 years, and she knows the people who come into Coach & Horses. The menu indicates that the majority of the dishes are spicy, and regulars understand the kitchen can't always accommodate changes. "The food here has to be proper Thai," Reed said. "It can't be half English, half Thai!"