The 27 best places to travel in 2019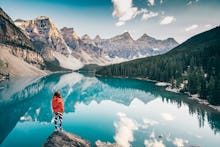 For this year's list of best places to travel, we asked writers and contributors from around the world to tell us about the destinations they were most excited about. Our 2018 picks highlighted great meals and budget-friendly destinations.
This year, we've organized the list in a more interactive format that allows you to see everything on a map. Want to go to a new country? Need a destination for a bachelorette party where everybody is coming from different places? Hoping to extend a work trip with a weekend getaway? No matter where you are, you can figure out the closest — or furthest — new place to add to your bucket list. Each of our write-ups, which are linked below, are full of the latest and greatest news from all of these destinations. But we've also asked our writers to share some of their favorite insider tips, from the must-buy souvenir to the cool ways these places are embracing green initiatives, so you'll feel a little more in-the-know when you get there.
This year's list of 27 places spans the world, from an exciting new food city in Scandinavia to an upstate New York haven. There are adventures for every type of traveler, whether you get your thrills from hot tubs with views of the Rockies, white-sand beaches or partying on barges. And we've highlighted places that are opening their arms to visitors, from Puerto Rico to Bhutan. After all, the power of travel means not just going somewhere and opening your eyes to something new, but also spending your hard-earned money in the places that could use it the most.
The best places to travel in 2019
North America
Alberta's Rocky Mountains, Canada
What could be a better wellness destination than the residence of more winter Olympic athletes than anywhere else in Canada?
Detroit has given the world iconic dishes such as square pizza and Asian corned beef, an Asian fusion take on a Reuben sandwich.
Franklin has the whiskey and war history to rival Nashville.
Maui is coming out of Oahu's shadow, thanks to its quiet beaches and great restaurants.
The skiing is world-class, but you can also partake in some unique yoga adventures or explore the snowless slopes on a mountain bike.
Puebla tends to get overshadowed by better known places like Oaxaca — and that's a shame.
Puerto Rico is open for business, with some help from Lin-Manuel Miranda.
Saratoga Springs isn't just for horse people — it's a nature escape with great food, too.
Scottsdale's young, cool side is just starting to emerge.
Telluride is for adventure seekers who want to spend all day in the great outdoors.
Tofino, on Vancouver Island, has world-class surf and unbelievable seafood.
South America
Mendoza is the grape capital of South America — and the food is just as good as the wine.
Panama City is a modern city, but explore its wild side with kayaking or a visit to Monkey Island.
Salvador is home to turquoise beaches and spicy Bahian food — a heady blend of Portuguese, African and indigenous Brazilian influences.
Europe
Belgrade has a wild nightlife scene, with clubs on barges and a burgeoning craft beer scene.
The Italian city is considered the birthplace of both tortellini pasta and tagliatelle alla Bolognese.
Sweden's second-largest city is setting the standard for sustainable dining in Scandinavia.
Islay — otherwise known as Whiskey Island — is where all of your scotch dreams come true.
Provence is vying to become France's next art capital.
Asia
Bhutan is a hiker's paradise that's slowly opening up to the outside world.
After a 6-month closure, Boracay reopens as a cautious tropical paradise.
Nagoya is the next big destination for food in Japan.
Taipei has amazing food — and it's also Asia's most gay-friendly city.
Australia
Unlike the Great Barrier Reef, the diving and snorkeling sites of the Ningaloo are right along the coast — and you can walk into the water and explore.
Uluru-Kata Tjuta National Park, Australia
Australia's sacred Uluru park is finally getting the protection it deserves, so travelers can visit without being destructive.
Africa
A new nonstop flight makes Nairobi — and Kenya's safari scene — way more accessible to Americans.
Go for the unreal landscapes, stay for the conscientious conservation of the area's wild animals.
CREDITS
Writers: Kate Bratskeir, Seema Dhawan, Meredith Heil, Dorothy Hernandez, Brad Japhe, Kelly Kasulis, Katie Lockhart, Hannah Lott-Schwartz, Kristin Luna, Kaitlin Menza, Sorrel Moseley-Williams, Lane Nieset, Josh Ocampo, C.B. Owens, Brooke Porter Katz, Brandon Presser, Kathryn Romeyn, Alex Schechter, Stephanie Wu
For more of Mic's Best Places to Travel in 2019, explore our map.