Obama visits a food bank, Trump goes to Mar-a-Lago: Here's how politicians are spending Thanksgiving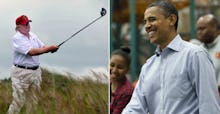 It's officially holiday season, and while politics should never take a seat at the dinner table, here's how a few politicians are spending their time off this Thanksgiving.
On Tuesday, former President Barack Obama surprised volunteers at the Greater Chicago Food Depository, a local food bank, where he arrived with several bags of donated food and helped bag potatoes — to the awe of a number of volunteers. According to the Chicago Tribune, Obama chatted up volunteers about all things baseball and school, and left younger fans speechless.
"I will say that I did take my hairnet off to take my picture with President Obama," Kate Steffen, a volunteer at the food bank, told the Tribune.
"They do great work making sure that those who aren't as fortunate are able to enjoy the kind of Thanksgiving meal that so many of us take for granted," Obama said in a video for his nonprofit group, the Obama Foundation.
Obama has had a long history of tackling issues of hunger among underprivileged communities. During his presidency, the Obama administration launched goals of reducing food waste by 50% in the U.S. by the year 2030. In 2016, he also approved the Global Food Security Act, which aimed to reduce food insecurity in foreign countries. In 2016, Obama and his family also spent the night before Thanksgiving serving meals at the Armed Forces Retirement Home for military veterans living in Washington, D.C.
"I am grateful for the next generation of leaders — the young people who are tolerant, creative, idealistic and doing the work to create the world as it should be," Obama later wrote in a tweet about his encounters with volunteers at the Chicago food bank. "Who understand that hope requires action. From the Obama family to yours, happy Thanksgiving."
If you like Thanksgiving news, here's what a few other politicians are up to this week
President Donald Trump is reportedly spending Thanksgiving at Mar-a-Lago — or what he refers to as the "Winter White House" — in Palm Beach, Florida, where he has been spotted golfing at the members-only club.
In a report by the AP, members of the Mar-a-Lago club now clamor to see the president and book reservations on nights where Trump may show up. In years past, former administration officials have said they've scanned guests lists and even booked the table next to Trump to keep an eye on the president.
In 2017, Trump similarly spent Thanksgiving in Florida and chowed down on a menu that included 24 different dishes of turkey, mashed potatoes and less traditional fare, like red snapper and Florida stone crab.
And while Trump golfs, one newly elected representative is hitting the streets. On Tuesday, New York Rep.-elect Alexandria Ocasio-Cortez volunteered with FeedingNYC.org, an organization that helps deliver meals to homeless shelter families in the New York City area. According to her tweet, Ocasio-Cortez helped pack over 6,000 meals and even danced with volunteers in celebration of the efforts.
On an Instagram live video, Ocasio-Cortez also filmed her baking efforts, making cookies in preparation for Thanksgiving while talking politics. "@Ocasio2018 said on her Instagram live stream she saw all the Republicans getting off their bus at orientation and that's the real Caravan we need to be afraid of," one user on Twitter wrote.