Twitter bans far-right activist Laura Loomer for Islamophobic tweet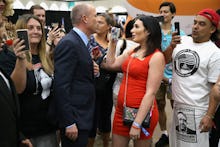 Twitter banned far-right activist Laura Loomer on Wednesday for a recent tweet criticizing Minnesota Rep.-elect Ilhan Omar (D-Minn.) and her Muslim faith. The tweet in question referred to Omar as "anti-Jewish" and referred to Muslim women in general as "abused and forced to wear the hijab."
Loomer was banned by Twitter for violating its rules regarding "hateful conduct" and she has since taken to YouTube to respond to the Twitter ban.
"The reason I was suspended was simply for telling the truth, the truth about Ilhan Omar," she said in the video. "I've been silenced in America. I've been silenced as a journalist for reporting the truth. It's egregious. And so what I need all of you to do is to subscribe to my website."
Loomer's Twitter account had over 260,000 followers before the ban. She was previously suspended by Twitter at the start of the midterm elections.
"We are being banned online in the middle of the midterm elections simply because we are conservative. Put simply, this is election meddling," she wrote in a Facebook post.
In 2017, the ride-hailing apps Uber and Lyft also banned Loomer after a series of Islamophobic tweets, including one that express her difficulty in finding a car driven by a "non-Muslim."
Loomer has long referred to herself as a "martyr" for the right-wing, having participated in a number of splashy stunts. In 2017, she interrupted a performance of Julius Caesar at the Public Theater in New York, referring to the actors as ISIS members and citing political violence against the right.
"This is not going to be the end of Laura Loomer," Loomer told the Daily Beast in regard to her latest ban.