Flamin' Hot Cheetos and Glitter Turkeys: The worst Thanksgiving dinners on social media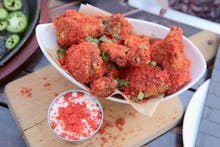 Let's face it, Thanksgiving dinners are hard work. Between hours devoted to roasting turkeys, making mashed potatoes and avoiding politics at the dinner table, it's a thankless job — and sometimes, the dinner isn't always a success.
Between glitter turkeys and stuffing made from actual White Castle sliders, here are some of the worst Thanksgiving culinary mishaps we've found on social media and why takeout isn't always a bad solution.
"Thanksgiving Pizza"
ESPN sports business reporter Darren Rovell tweeted out a photo of the "Thanksgiving Pizza," made with turkey breast and cranberries and drizzled in gravy. The pizza is being offered at Ford Field in Detroit for the Thanksgiving Day game between the Detroit Lions and the Chicago Bears. According to the Detroit Free Press, Ford Field is expecting to serve 1,200 pounds of whole turkey and turkey breast, 700 turkey legs and 50 pounds of gravy — on Thanksgiving Day alone.
"Sweet Potato Poon"
On Wednesday, Today anchor Al Roker showed off his culinary enthusiasm with a questionably named recipe for "Sweet Potato Poon." The unique recipe is a concoction of several sticks of butter, crushed pineapple, cinnamon, nutmeg and marshmallows.
"Flamin' Hot Cheetos Turkey"
Reynolds Kitchens cooked up a less-than-traditional recipe for turkey this week.. According to their website, you can "kick up" the flavor of your Thanksgiving turkey by coating it in "hot puffed cheese sticks" — in other words, Flamin' Hot Cheetos. Social media has lit up with comments on the odd recipe. "The devil is real," the Atlantic's Jemele Hill tweeted.
"Glitter Turkey"
What's more celebratory than glitter on your roasted turkey? The recipe, also concocted by the folks at Reynolds Kitchen, calls for one bottle of "liquid pearl sheen or pearl dust," that will apparently give the turkey that extra amount of flare.
"White Castle Stuffing"
Who needs to cook when you can order in? This unique stuffing recipe calls for 10 White Castle sliders, celery and chicken broth, baked at 350 degrees for 35 minutes. "I swear some people just have too much time on their hands to think this stuff up," one user on Twitter wrote.