Who's Sorry This Week? Macy's, Sen. Cindy Hyde-Smith, Kyrie Irving and more public apologies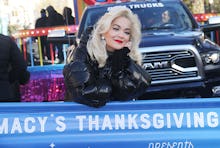 Happy holidays to those celebrating and welcome to another edition of our weekly apology rundown. In Who's Sorry This Week? Mic tracks down the most prominent mea culpas from celebrities, companies and other public entities trying to make amends for their various screw-ups.
Let's examine this week's public mistakes.
Sen. Cindy Hyde-Smith is sorry for "public hanging" joke
Mississippi Sen. Cindy Hyde-Smith apologized for joking about a "public hanging" while making remarks at an election campaign event earlier this year.
In the footage that sparked outrage, Hyde-Smith can be heard stating to a crowd, "If he invited me to a public hanging, I'd be on the front row." Hyde-Smith was referring to a cattle rancher, who was one of her campaign supporters. To many this was an insensitive way of showing gratitude, given the fact that Mississippi has a dark history of more public hangings than any other state between 1882 and 1968, according to the NAACP.
"You know, for anyone that was offended by my comments, I certainly apologize," the Republican senator said. "There was no ill will, no intent whatsoever in my statements. I have worked with all Mississippians. It didn't matter their skin color type, their age or their income. That's my record."
It's also important to note that Hyde-Smith originally dismissed any claims that her words were harmful when she was first called out. "In a comment on Nov. 2, I referred to accepting an invitation to a speaking engagement," she said in a statement on Nov. 11. "In referencing the one who invited me, I used an exaggerated expression of regard, and any attempt to turn this into a negative connotation is ridiculous."
Kinam Kim is sorry for health threats at Samsung factories
Kinam Kim, the president and CEO of device solutions for Samsung Electronics, is sorry that the tech giant did not "sufficiently manage health threats" at its chip and LCD factories. Dozens of employees suffered from illnesses and also died from leukemia and brain tumors, and experienced miscarriages, after working at those facilities.
"We offer our sincere apology to our workers who have suffered with illnesses and their families," Kim said at a news conference Friday, in Seoul, South Korea, where the company is based.
Samsung workers who have been employed with the company as far back as 1984 will receive settlement money for various illnesses, such as 150 million won ($132,000) for leukemia, according to the Associated Press.
Macy's is sorry for Rita Ora's lip-synching difficulties
Some disgruntled fans watching the annual Macy's Thanksgiving parade disapproved of technical difficulties during the live telecast of Thursday morning's event.
The retailer took heat on Twitter after viewers complained that British singer Rita Ora was not in sync with her vocals during a performance of her single "Let You Love Me," at the parade. The company apologized for the mishap.
"During today's NBC broadcast of the #MacysParade several recording artists experienced technical difficulties that negatively impacted their performance," read a tweet, from the company's page Thursday. "We apologize and want fans to know these issues were out of the artist's control."
John Legend also came to her defense in a tweet. "Fun fact," Legend wrote. "We all have to lip sync on this parade because the floats don't have the capacity to handle the sound requirements for a live performance. Hope y'all enjoyed it anyway. Know that if you come to my shows, the vocals are 100% live!"
Ora thanked Legend for the explanation, in a retweet.
"Fun fact @johnlegend thank you for clarifying what I was about to also tweet," Ora stated. "It's annoying for us but anyway! All my shows are 100 percent live always have been! When you come to a ORA show get ready! Back to holidays! Have a good one guys! :) X"
Kyrie Irving is sorry for saying "fuck Thanksgiving"
After a Thanksgiving eve loss to the New York Knicks, Boston Celtics star point guard Kyrie Irving tweeted "fuck Thanksgiving" to someone who had wished him a happy holiday, NBC News reported. On Thursday morning, Irving said he was frustrated after the game in a tweet apology.
"I spoke w/ frustration after last nights game and spoke words that shouldn't be in a professional setting no matter what," he wrote.
"Meant no disrespect to the Holiday and those who celebrate it respectfully." Irving wrote in a subsequent tweet. "I'm grateful for the time We all can share with our families. We are always ONE."