What Melania Trump wore her 96th week as first lady — including Thanksgiving dinner at Mar-a-Lago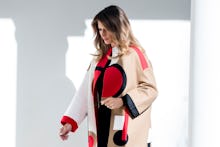 First lady Melania Trump made rounds of appearances ahead of the Thanksgiving holiday this past week, including the White House's annual turkey pardoning on Tuesday. By Thursday, Trump also managed to ruffle feathers on Twitter with her Thanksgiving tweet.
"Wishing you all a very happy Thanksgiving!" Trump wrote. "As we give thanks, let's keep those who can't be with their families in our thoughts today. #Thanksgiving."
Critics wanted to know what Trump meant by this and if she was including troops who were on duty at the borders and children of immigrants who have been indefinitely separated from their parents because of President Donald Trump's immigration policies.
One Twitter user responded, by asking, "Does that include families cruelly separated by your husband?" Another wrote to Trump, "Like the children that are still separated from their families? Or the military at the border awaiting a non-violent caravan?"
As of Friday morning, Trump hasn't responded to those questions from concerned citizens. But let's check out what she wore, shall we?
Monday, Nov. 19: A Michael Kors cape to the White House Christmas tree greeting
On Monday, Melania Trump and President Donald Trump greeted the new White House Christmas tree that was brought in by a horse drawn cart, USA Today reports. To celebrate the start of the new holiday season, Trump wore a red double-breasted Michael Kors Tartan plaid cape from the Fall 2018 collection. She wore the coat over an all-black ensemble and with a pair of black boots.
Tuesday, Nov. 20: A Christian Dior coat to the White House turkey pardoning
At the White House's annual Thanksgiving turkey pardon Tuesday, the first lady paired another long coat with black boots as she stood by President Donald Trump who made remarks at the event. This time she pulled a brown, white, red and black Christian Dior coat from the pre-fall 2018 collection.
Wednesday, Nov. 21: A Lela Rose dress upon arriving in Palm Beach, Florida
On Wednesday, Trump made her way to Palm Beach, Florida, the home of Trump's Mar-a-Lago club and resort, where the family is spending the Thanksgiving holiday. Photos capturing the first lady's arrival Wednesday showed her donning a white Lela Rose lace-hem dress with opal green Christian Louboutin So Kate 120 patent-leather pumps.
Thursday, Nov. 19: A black lace ensemble to Thanksgiving dinner at Mar-a-Lago
By dinnertime on Thanksgiving Thursday, Trump appeared to be wearing a Fall 2016 black lace and tulle Dolce & Gabbana dress, in photos captured at Mar-a-Lago estate. Trump reportedly wore this dress during a visit to Israel in 2017.
You can read previous recaps of what Melania Trump wore here.