Movement Must-Reads: Local NYC organizers speak out against Amazon deal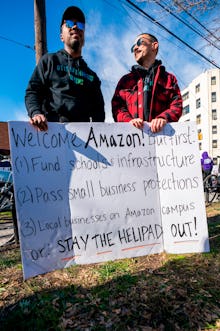 The holiday season is in full swing. If you have downtime over this long weekend, here are some movement stories from Mic and elsewhere you should check out.
This week's newsletter covers a response from Long Island City organizers on Amazon's deal with New York; a Mic Dispatch story on the violence experienced by transgender people and an update on the Women's March controversy.
Read on for more.
From Mic:
I wrote on why Amazon's Long Island City deal surprised local organizers and a piece on Brooklyn community activist Anthony Beckford, who is determined to get justice for Ann Marie Washington. Here's a look at U.S. Rep.-elect Ilhan Omar's push to change the headwear ban in the House of Representatives. And I wrote a feature on female rappers who don't want to be defined by industry sexism and how they're setting their own rules.
Chauncey Alcorn covered U.S. House of Representatives Democratic nominee Ben McAdams declaring victory in a tight race with Rep. Mia Love in Utah. Alcorn also wrote on why Women's March leaders are not stepping down from the movement over co-chair Tamika Mallory's alleged affiliation with Nation of Islam leader Louis Farrakhan.
And Mic Dispatch's correspondent Serena Daniari's latest story focused on the violent mistreatment and murders of transgender people.
From elsewhere:
From the Fader, a profile on the rap group, Girlz N the Hood, which Nia Wilson helped found before she was stabbed to death in Oakland in July.
The Human Rights Campaign released a new harrowing report about the homicides of transgender people, ReWire reports. At least 82% of those killed were women of color.
An although the holiday has passed, Teen Vogue featured 10 Native American organizations you can support on Thanksgiving and beyond.
Until next week,