Trump in lock-step with Saudi leadership in distrust of CIA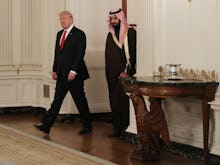 A high-ranking Saudi official claimed Saturday that the CIA cannot be trusted to come to a fair conclusion on the killing of Jamal Khashoggi — an unfavorable view of United States intelligence that has repeatedly been put forth by President Donald Trump.
"The CIA is not necessarily the highest standard of veracity or accuracy in assessing situations," Prince Turki al-Faisal, a senior member of the royal family, told journalists in Abu Dhabi, according to Reuters. "The examples of that are multitude."
The comments came about a week after it was reported that the CIA concluded Saudi Crown Prince Mohammed bin Salman had ordered the dissident journalist's killing — and days after Trump disregarded those findings and announced he would continue to strongly support the kingdom regardless of its culpability.
The negative view of American intelligence expressed by the senior Saudi prince Saturday — which included a suggestion that the entire agency should "be on trial" — echoes that of Trump, who has challenged his own agencies' assessments throughout his presidency.
One of the most notable examples of this has been the doubt Trump has repeatedly cast on the conclusion that Russia meddled in the 2016 election with the goal of helping him to the presidency.
He has railed against investigators looking into that interference and in a number of public statements seemed to accept Russian President Vladimir Putin's denials of wrongdoing, including during a joint press conference following the Helsinki summit in July.
"My people came to me, [Director of Nat'l Intelligence] Dan Coats came to me, some others, they said they think it's Russia," Trump said at the press conference. "I have President Putin. He just said it's not Russia. I will say this, I don't see any reason why it would be."
Like al-Faisal, Trump has also made vague calls for members of American intelligence he perceives as opponents to be investigated or prosecuted, including former FBI director James Comey, who led the Russia probe until his dismissal in 2017.
Trump's disregard for the CIA's conclusions about the Khashoggi killing has drawn widespread criticism in the U.S.
Khashoggi, a Washington Post columnist critical of Riyadh, disappeared in October after entering the Saudi consulate in Istanbul. The Saudis presented shifting stories about the disappearance before admitting that he was killed there, while maintaining that the crown prince had no involvement.
Trump on Tuesday released a stunning statement siding with the Saudis, not just disputing whether MBS ordered the killing or not, but suggesting that it wouldn't matter if he did.
"We may never know all of the facts surrounding the murder of Mr. Jamal Khashoggi," Trump said. "In any case, our relationship is with the Kingdom of Saudi Arabia. They have been a great ally in our very important fight against Iran. The United States intends to remain a steadfast partner of Saudi Arabia to ensure the interests of our country, Israel and all other partners in the region."
A day later, he credited Saudi Arabia in a tweet that praised lower oil prices ahead of the Thanksgiving holiday.