This Week in Trump-Russia News: Trump finally sends his answers to Mueller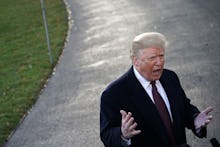 Robert Mueller had for months been seeking to interview President Donald Trump as part of his probe into Russia's election interference.
But Trump and his legal team had resisted, concerned — rightly so, perhaps — that the president could incriminate himself before the special counsel.
Mueller didn't get the sit-down he initially wanted, but Trump this week finally submitted written answers to the special counsel's questions, drawing an end — for now — to long, fraught negotiations.
Here's what you need to know about the Russia investigation this week.
Trump submits written answers to Mueller
Trump said last week that he had finished writing his answers to Mueller's questions, but that he had yet to turn them in.
On Tuesday, Trump lawyers Rudy Giuliani and Jay Sekulow announced, the president submitted the responses to the special counsel, filling in one of the final missing puzzle pieces of the Russia probe.
"It has been our position from the outset that much of what has been asked raised serious constitutional issues and was beyond the scope of a legitimate inquiry," Giuliani said in a statement. "This remains our position today. The president has nonetheless provided unprecedented cooperation. The special counsel has been provided with more than 30 witnesses, 1.4 million pages of material, and now the president's written responses to questions."
He added: "It is time to bring this inquiry to a conclusion."
It's not clear what exactly Mueller asked, but Giuliani said last week that some of the questions "create more issues for us legally than others." The questions do not cover issues of obstruction of justice, focusing instead on potential collusion between the Trump campaign and the Kremlin.
It's also not clear if the answers will be sufficient for Mueller to conclude the probe, as Trump and his legal team have demanded; he could still ask follow up questions, or pursue an in-person interview with the president that could trigger a contentious legal battle.
The legal team submitted Trump's answers — which he insists he wrote on his own, without input from his lawyers — as Mueller is said to be preparing his final report on Russia and readying to deliver his key findings to the Department of Justice.
Whitaker faces more scrutiny
What is done with those findings could depend on Matthew Whitaker, the Mueller critic Trump appointed to lead the DOJ — and oversee the Russia probe — after sacking Jeff Sessions.
Critics have objected to his selection, arguing that his criticisms of the FBI inquiry are disqualifying and his lack of Senate confirmation forbids him from leading the Justice department. The DOJ, though, has upheld the Whitaker appointment as constitutional.
But Whitaker has continued to face pressure from suits and investigations.
Senate Democrats on Monday filed a lawsuit challenging Whitaker's appointment, arguing that he needs Senate approval to run the DOJ. As Bloomberg noted, that suit is at least the fourth challenge to the constitutionality of Whitaker's selection.
Adding to the pressure, Whitaker is now under independent federal investigation for accepting potentially illegal donations in early 2018 to his unsuccessful Senate campaign that ended years ago.
Four people donated nearly $9,000 to Whitaker's failed 2014 Senate bid in January and February, when he was serving as Sessions' chief of staff.
A complaint of a potential violation of the Hatch Act has been referred to the Office of the Special Counsel.
Whitaker has been the subject of significant scrutiny since his appointment not just for his critical comments about the Russia probe, but also over the shady business and political activities he engaged in before joining Sessions' Justice department.
Trump reportedly ordered investigations into Clinton and Comey
Critics argue that the Whitaker appointment is yet another instance of Trump attempting to use the DOJ to his own political ends.
In another example this week, it was reported that Trump had attempted to direct the Justice Department to investigate Hillary Clinton and James Comey — the former presidential candidate and former FBI director who have long been seen as being at the top of Trump's long list of enemies.
Trump ultimately did not order the investigations after then-White House counsel Don McGahn cautioned him against it, warning that even attempting to do so could lead to his impeachment.
Nevertheless, Trump continues to privately discuss prosecuting the pair, each of whom have been harsh critics of his presidency, according to the New York Times, which first reported the story on Tuesday evening.
The reported attempts to prosecute his political enemies serves as another reflection of how Trump views the Department of Justice: as a tool to protect himself and his allies, and to go after his opponents.
That Sessions, one of his earliest and most ardent supporters, resisted his calls to run the department as such factored heavily into his fall from grace in Trumpland.
The president had long felt that his attorney general had failed to provide him adequate cover from Mueller's probe, repeatedly blasting him for recusing himself from matters related to the Russia investigation. He also accused Sessions of being "weak" for not investigating Clinton and others he has accused of vague crimes and wrongdoing.
Trump fired Sessions on Nov. 7, the day after the midterm elections.
Corsi says he's in plea talks with Mueller
Meanwhile, more Mueller moves loom on the horizon.
Jerome Corsi, a conservative conspiracy theorist and associate of Roger Stone, says he's in plea talks with the special counsel, which could make him the latest figure in Trump's orbit to cooperate with investigators.
Former national security adviser Michael Flynn, former Trump campaign chairman Paul Manafort and former campaign aide George Papadopoulos are among the figures Mueller has cut cooperation deals with.
Corsi, who said last week that he expects to be indicted by Mueller, would be a significant get for the special counsel, as the Stone ally could help investigators determine if Trump or his campaign were involved in WikiLeaks' release of stolen emails from Clinton and the Democratic Party in 2016.
Corsi's cooperation could also increase the pressure on Stone, a close confidante of Trump who has long appeared to be one of the most vulnerable targets of Mueller's investigation.