Trump threatens to close southern border amid reports of potential asylum deal with Mexico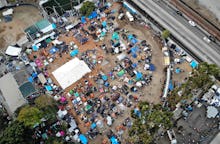 President Donald Trump threatened to close the southern border between United States and Mexico, amid an influx of migrants traveling in caravans from Central America.
"Migrants at the Southern Border will not be allowed into the United States until their claims are individually approved in court," Trump tweeted Saturday.
"All will stay in Mexico," Trump continued. "If for any reason it becomes necessary, we will CLOSE our Southern Border. There is no way that the United States will, after decades of abuse, put up with this costly and dangerous situation anymore!"
Trump's comments come as 5,000 migrants have gathered in the border city of Tijuana, Mexico, as they prepare to seek asylum in the United States, prompting the mayor of Tijuana to declare a humanitarian crisis. Trump has frequently decried the current rise in migrant caravans, even going so far as to send 5,900 troops to the border. Those troops are now beginning to withdraw from the border, with all expected to be home by mid-December, Politico reported Monday.
Trump's announced plan to have asylum seekers remain in Mexico while their cases are being processed may or may not have the support of the Mexican government. The Washington Post reported Saturday that the U.S. government had discussed a tentative agreement with the incoming administration of Mexican President-elect Andrés Manuel López Obrador, dubbed "Remain in Mexico."
Under the reported plan, migrants who ask for asylum at the U.S.-Mexico border would be forced to remain in Mexico while their asylum claims are being processed. Asylum seekers would undergo an initial screening to determine whether they would face imminent danger by remaining in Mexico, the Post reported.
Currently, asylum seekers are granted the right to remain in the United States during their immigration proceedings under U.S. law. A federal judge ruled Monday against a Trump administration proclamation that stipulated migrants would only be considered for asylum at a specifically designated port of entry, temporarily blocking the policy from taking effect.
"For now, we have agreed to this policy of Remain in Mexico," Olga Sánchez Cordero, Mexico's incoming interior minister, told the Post. The new administration will take office Dec. 1.
The Post report on the tentative Mexico deal, which was corroborated by similar reports in Politico and the New York Times, has also been rebuffed by the same Mexican government officials that confirmed it, however. Despite her comments to the Post, Sánchez Cordero told Reuters on Saturday the plan had been "ruled out."
"There is no agreement of any sort between the incoming Mexican government and the U.S. government," Sánchez Cordero said in a statement, according to the Associated Press. She did not address her conflicting statement in the Post.
In the same Reuters piece, however, incoming deputy interior minister Zoe Robledo said details of the "Remain in Mexico" plan were still being worked out.
"What we're aiming for is that people leaving their countries due to security issues or violence can find a place to stay in Mexico if that is their decision," Robledo told Reuters.
If the reported plan does come to pass, asylum officials could begin implementing the procedure in the coming days or weeks, Department of Homeland Security officials cited by the Post said.
Stephanie Leutert, director of the Mexico Security Initiative at the Robert Strauss Center for International Security and Law at the University of Texas at Austin, noted on Twitter the policy would "likely decrease the number of asylum seekers," as "the hope is that asylum seekers will not want to live in [Mexico] for months/years and won't come." The policy could cause problems for certain border cities and potentially inspire migrants to attempt to sneak into the United States undetected, Leutert suggested.
American Civil Liberties Union attorney Lee Gelernt told the Post it was too early to comment on potential litigation against the "Remain in Mexico" policy, but noted that "any policy that would leave individuals stranded in Mexico would inevitably put people in danger."
"The administration ought to concentrate on providing a fair and lawful asylum process in the U.S. rather than inventing more and more ways to try to short-circuit it," Gelernt said.