MLB becomes latest group to revoke its donation to Mississippi Sen. Cindy Hyde-Smith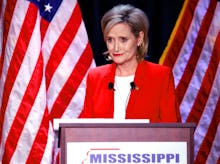 The MLB has requested that its donation to Mississippi Senate candidate Cindy Hyde-Smith be returned, as the senator faces a runoff election Tuesday against Democrat Mike Espy.
The league said in a statement Sunday it was revoking a $5,000 donation it had made to Hyde-Smith. The donation was made Friday, after Hyde-Smith had already come under fire for controversial comments made on the campaign trail. She has joked about wanting to be in the "front row" for a "public hanging" and said voter suppression against Democrats is a "great idea."
"The contribution was made in connection with an event that MLB lobbyists were asked to attend," an MLB spokesperson said in a statement Sunday, as quoted by ESPN. "MLB has requested that the contribution be returned."
In addition to her controversial comments, Hyde-Smith has also faced other accusations of racism as events from her past have surfaced in recent days. Hyde-Smith posed in a Confederate hat for a 2014 photo captioned "Mississippi history at its best!" She also supported a resolution as a state senator that praised a Confederate soldier's effort to "defend his homeland," and the Jackson Free Press reported Friday Hyde-Smith attended and graduated from a "segregation academy" set up so that white parents could avoid sending their children to an integrated school.
Espy is currently fighting to become the state's first black senator since the Reconstruction Era.
MLB is now the latest in a string of organizations and companies that have requested their donations to Hyde-Smith be returned, following such companies as Walmart, AT&T, Leidos, Union Pacific and Boston Scientific.
Several companies that have donated to Hyde-Smith have remained silent, including Verizon Communications, Home Depot, Chevron and Exxon Mobil. Google, which donated $5,000 to Hyde-Smith, said in a statement to the Daily Dot that it does not "condone these remarks and would not have made such a contribution had we known about them," but would not say whether it would revoke the donation.