This Week in Politics: Mississippi will elect US senator, Trump to meet with Putin at G20 summit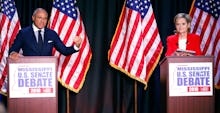 The midterm elections will continue this week, as incumbent Sen. Cindy Hyde-Smith (R-Miss.) faces off against Democratic challenger Mike Espy in Mississippi's U.S. Senate race.
President Donald Trump will campaign for Hyde-Smith before leaving later this week for Argentina, where he'll take part in the G20 summit — and likely meet with Russian President Vladimir Putin.
Back in Washington, Congress will work to stop a government shutdown this week, while current House Minority Leader Nancy Pelosi faces her first vote in her fight to become Speaker of the House.
Here's what to expect from the political world in the week ahead.
Mississippi election: Hyde-Smith and Espy will face off Tuesday in a runoff election for the state's junior U.S. Senate seat, after neither candidate won a majority of votes on election night.
The race could be competitive despite Mississippi's conservative reputation, as Hyde-Smith has come under fire on the campaign trail for controversial comments, such as expressing excitement about attending a "public hanging" and saying suppressing Democratic votes was a "great idea." A number of organizations and companies, including Walmart, AT&T and MLB, have withdrawn their donations to Hyde-Smith over her controversial remarks.
If he pulls off an upset against Hyde-Smith, Espy would be the first black U.S. senator elected in Mississippi since the Reconstruction Era.
Trump's agenda: Trump will campaign for Hyde-Smith on Monday in Mississippi. He has praised her despite her recent controversies, calling her an "outstanding person" in a tweet Sunday morning.
Trump will then participate in the National Christmas Tree lighting ceremony Wednesday before traveling Thursday to Buenos Aires for the G20 summit.
The summit will include some important meetings for Trump, such as a potentially contentious conversation with Chinese President Xi Jinping over the trade disputes between the two nations. Trump is also expected to meet with Putin for the first time since his much-maligned summit with the Russian leader in Helsinki, after a planned meeting in Paris earlier in November was canceled.
U.S. Supreme Court: The Supreme Court will be back in session this week, and will hear cases on such topics as Indian territory, an Eighth Amendment ban on "excessive fines" and probable cause. On Monday, the court will hear arguments in an antitrust case brought against Apple by iPhone users, who are taking the tech company to task for requiring users to buy apps through Apple's App Store at inflated prices.
This week could also include rulings on whether the court will consider on key U.S. policies. The Trump administration asked the court Friday to consider its ban on transgender individuals serving in the military, and has also asked the court for an expedited hearing on the Deferred Actions for Childhood Arrivals program.
Congress: Congress is back in session this week, and lawmakers will have to contend with a potential government shutdown Dec. 7. Trump has threatened to shut down the government if the government spending bill doesn't include more funding for border security. That funding demand includes at least $5 billion for Trump's border wall, which Politico reported Democratic lawmakers are unwilling to accept.
The shutdown fight could also include battles over the Russia investigation, as Democrats may seek to include measures that would protect Robert Mueller's investigation from being shut down by acting U.S. Attorney General Matthew Whitaker.
House Democrats will face a test Wednesday as they vote in a private meeting for the party's candidate for speaker of the House, ahead of a full floor vote Jan. 3. Members of the Problem Solvers Caucus recently voiced their opposition to Pelosi's bid for speaker — adding to a number of Democrats who had already vowed to oppose the current minority leader — but Pelosi is currently running for the Democratic nomination unopposed.
The Senate, meanwhile, will face challenges this week as Senate Majority Leader Mitch McConnell faces mounting pressure to bring a criminal justice reform bill to a vote. The bill, which would reform federal sentencing laws and fund anti-recidivism programs, has garnered bipartisan support; Trump said on Twitter passing the measure would be a "major victory for ALL."
Though the bill has passed the House, however, McConnell has yet to bring it to a vote in the Senate despite pressure from his Republican colleagues, claiming there is not enough time to do so before the Senate session ends in mid-December.