Today in Trump's America: US fires tear gas at migrants, including children and toddlers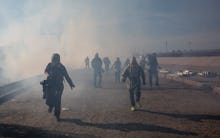 If, like many, you tuned out the news over the holiday weekend, you've got quite a bit of catching up to do.
On Friday, the Trump administration tried to bury its own report that shows climate change will have dire consequences on the economy, costing hundreds of billions of dollars worth of damage in the coming years and threaten safety and security around the globe.
By Sunday, United States officials launched tear gas at members of the migrant caravan — including toddlers — who made it to the San Ysidro border crossing between Tijuana, Mexico, and San Diego.
The images of the clashes between the migrants and border officials came as 60 Minutes aired a devastating report about the Trump administration's child separation policy and the damage it may have done to kids who were taken from their parents.
If this weekend's news was any indicator, this week could be another one for the history books.
Here's what's happening in Trump's America:
• Trump's day begins at 11:30 a.m., when he'll receive his daily intelligence briefing.
About the weekend: Chaos at the border
One of the busiest border crossings in the world was completely shut down on Sunday and clashes ensued, as members of the migrant caravan Trump has railed against for weeks made it to the border between Tijuana and San Diego.
The clashes began when hundreds of migrants tried to break through a blockade of Mexican police officers. The incident led U.S. Customs and Border Patrol agents to fire tear gas at the migrants, leading to devastating images of children and toddlers running from the caustic chemicals in the air.
Many of the migrants are asylum seekers, who are legally allowed to cross the border and make an asylum claim. However, on Monday morning, Trump claimed without evidence that some of the migrants are "stone cold criminals," and said he may close the border "permanently" unless Mexico sends them back to their home countries.
"Mexico should move the flag waving Migrants, many of whom are stone cold criminals, back to their countries," Trump tweeted Monday morning. "Do it by plane, do it by bus, do it anyway you want, but they are NOT coming into the U.S.A. We will close the Border permanently if need be. Congress, fund the WALL!"
Trump has tried to change rules to make it so migrants could only ask for asylum if they crossed the border at designated ports of entry — a law a federal judge temporarily blocked.
Currently, once asylum seekers cross the border and make their claim, they are permitted to stay in the U.S. as their claims are processed. But Trump also wants to change this rule, forcing migrants to remain in Mexico as their cases move through the courts, a long process that can sometimes take months if not years.
"Migrants at the Southern Border will not be allowed into the United States until their claims are individually approved in court," Trump tweeted on Saturday. "We only will allow those who come into our Country legally. Other than that our very strong policy is Catch and Detain. No 'Releasing' into the U.S."
The clashes at the border raise the stakes of an upcoming battle over government funding.
The federal government runs out at midnight on Dec. 7. Trump, who has been pushing for funding for a physical border wall between the U.S. and Mexico, could demand any bill that makes it to his desk must contain an outlay for that project. If it does not, he could refuse to sign the funding bill, which would lead to a partial government shutdown.
With no agreement for border wall funding, a partial shutdown is a distinct possibility. The shutdown would only be partial, as 75% of the government has already been funded by bills Congress passed this summer, according to Politico.
Today in Trump's America: Trump hits the campaign trail ... again
Trump is headed south on Monday to campaign for GOP Sen. Cindy Hyde-Smith in a special election in Mississippi.
Hyde-Smith is the favorite to win, but a series of racist missteps has drawn attention to her re-election campaign and made the race closer than it should be in this heavily Republican state.
Since the Nov. 6 midterms, Hyde-Smith was caught on camera saying she would gladly attend a "public hanging" if her supporters invited her. Given Mississippi's racist past, including lynchings of black people, her comments led to a bevy of criticism. She was also caught saying it would be a "great idea" to "make it just a little more difficult" for college students — including those at historically black colleges and universities in the state — to vote.
Hyde-Smith's comments led reporters to dig further into her past, which found she graduated from a segregation academy that was created so white students could avoid going to integrated schools with black students. She has also praised a Confederate soldier's quest to "defend his homeland" in a resolution she cosponsored when she served as a Mississippi state senator in 2007.
The focus on Hyde-Smith's racist comments has some GOP strategists nervous about her chances in Tuesday's runoff. However, she is still a clear favorite, given Mississippi's heavily Republican bent.
And the rest...
Into the clink: Former Trump campaign adviser George Papadopoulos will report to federal prison on Monday for a 14-day sentence for lying to the FBI about his contacts with Russians during the 2016 campaign. Papadopoulos' drunken comments to an Australian diplomat are what led to the Russia investigation.
Trial begins: The trial against a white supremacist accused of killing one and injuring a handful of others when he plowed through a crowd of counterprotesters in Charlotte, Virginia, with his car begins Monday. James Alex Fields faces one count of first-degree murder for the death of counterprotester Heather Heyer, multiple assault charges and hate crime charges.
Mueller news: It was a busy weekend for special counsel Robert Mueller's investigation. Trump finally submitted written answers to some of Mueller's questions, ignoring those pertaining to obstruction of justice — which could set up a possible subpoena battle. Meanwhile, a conspiracy theorist and associate of Mueller probe target Roger Stone is reportedly in plea talks with Mueller's team, possibly cooperating against Stone.