Hype Daily: Ariana Grande is planning an epic music video and more entertainment news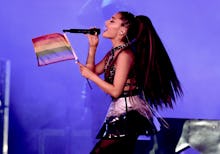 Good morning, Hype Daily readers and welcome back — hope everyone had a fantastic Thanksgiving holiday (if you celebrate) and a great weekend. Now, let's take a look at the entertainment news you missed while you were stuffing yourself with stuffing.
Ariana Grande is planning one heck of a music video for "Thank U, Next"
Ariana Grande has been working on a music video for her break-up anthem "Thank U, Next," and, from the teasers she's shared so far, it seems like it's going to be epic. Grande has been sharing Instagram posts hinting that the new music video will have detailed homages to movies from the early '00s, including 13 Going on 30, Bring It On, Legally Blonde and Mean Girls.
And it seems like the music video won't just have costumes and prop replicas from those movies — Grande also snagged some of the original actors. Jennifer Coolidge from Legally Blonde seems to be involved and so is Jonathan Bennett, who played Aaron Samuels in Mean Girls. On Sunday, Bennett shared a pic of himself as Aaron, next to Grande dressed as queen bee Regina George. This music video is going to be so fetch.
Everyone was talking about that Lion King trailer
Disney released the first trailer for its upcoming CGI-remake of The Lion King on Thursday, and it had everyone talking. In fact, the teaser trailer, which shows the new film's take on the iconic opening scenes of the original 1994 movie, quickly became the second most watched trailer in a single day from any studio in the 24 hours following its release, with 224.6 million online views, Entertainment Weekly reported.
Of course, some of those views were people who are excited for the remake and some were hate views from people decrying the soullessness of CGI animals. Judge for yourself and check out the trailer here. The new Lion King hits theaters July 19.
Your box-office roundup
Unsurprisingly, lots and lots of people went to the movies over the long Thanksgiving weekend. The family-friendly Disney sequel Ralph Breaks the Internet dominated the box office, earning $55.7 million from Friday to Sunday in the U.S. and Canada, the Associated Press reported.
Creed II took the second slot, earning $35.3 million, and the animated Christmas film Dr. Seuss' The Grinch came in third, with $30.2 million in ticket sales.
People got mad at Rita Ora for lip-synching during the parade
Singer Rita Ora had a bit of an oopsie at the Macy's Thanksgiving Day Parade on Thursday. The singer performed her song "Let You Love Me" from a float, but during the performance, viewers quickly noticed Ora was lip-synching, but she wasn't quite in tune with the vocal track that was playing. As CNN reported, Twitter seized on the mistake, mocking Ora's poor lip-synching.
But don't worry, because fellow parade performer John Legend came to Ora's defense, tweeting, "Fun fact. We all have to lip sync on this parade because the floats don't have the capacity to handle the sound requirements for a live performance. Hope y'all enjoyed it anyway. Know that if you come to my shows, the vocals are 100% live!"
Put this on your radar: A Legendary Christmas With John and Chrissy
Speaking of John Legend, he and twitter celeb and model Chrissy Teigen, who happens to be his wife, will host a Christmas special that will air this Wednesday, Nov. 28, on NBC. According to the official NBC description, "John and Chrissy go surprise caroling with their friends Darren Criss, Jane Lynch, Raphael Saadiq and Meghan Trainor, and other friends from their neighborhood will stop by their home to celebrate the holidays."
Those "other friends" apparently include celebs like Awkwafina, Zach Galifianakis, Kris Jenner, Retta, Ben Schwartz and Kim Kardashian West. Legend will also perform songs from his new Christmas album, also titled A Legendary Christmas. All this and it's not even December yet!
This has been Hype Daily, Mic's morning entertainment roundup. It's everything you need to catch up on in the entertainment world and what to look forward to today. Want to receive this as a daily email in your inbox? Subscribe here.