The rapid and inevitable undoing of Dolce & Gabbana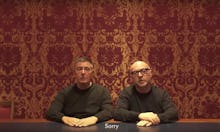 "I don't fuck with Stefano Gabbana or D&G." That's what 2018 CFDA/Vogue Fashion Fund winner Kerby Jean-Raymond of the brand Pyer Moss told Mic in January. It was a rare on-the-record statement from someone with power in the fashion industry openly admitting a disdain for a brand that has largely gone unchecked despite repeated indiscretions.
D&G's co-founders Domenico Dolce and Stefano Gabbana have sold "slave sandals," openly opposed gay adoption and mocked folks boycotting their brand for dressing the Trumps. Dolce has called babies born via in vitro fertilization "synthetic," while Gabbana has claimed sexual harassment is "not violence" and called Selena Gomez "so ugly," Miley Cyrus "ignorant" and critics of the brand's "I'm thin and gorgeous" sneakers "fat and full of cholesterol." Even still, Dolce and Gabbana remain titans within the fashion industry, attracting the likes of celebrity clientele, including Mariah Carey, Lady Gaga, Cardi B and more. Model Ashley Graham has faced criticism for walking in D&G shows.
But its latest controversy — canceling a Shanghai fashion show after accusations of racism on social media surfaced — and the immediate fallout, might signal a shift in terms of how the brand moves forward. The fallout is starting to paint a grim picture of D&G's lifeline. Prominent Chinese celebrities criticized the brand, and its fashion show was canceled. But more importantly, D&G is being scrubbed from Chinese online retail giant Alibaba's TMall and other online retailers, effectively damaging its bottom line.
On Nov. 18, Dolce & Gabbana released an ad intended to create excitement for the brand's Great Show in Shanghai, which would have been the largest show in the brand's history. It would have included 140 performers and over 300 looks, according to Vogue. The now-deleted ad (a screenshot of which is below) featured an Asian model trying to eat various Italian foods (pizza, spaghetti, cannoli) with chopsticks as a narrator asked, "Is it too huge for you?"
Some D&G team members anticipated backlash before the ad was released. According to the Business of Fashion, "Members of Dolce & Gabbana's local team in China warned the Milan-based company not to proceed with the marketing campaign that sparked the uproar but were overruled." Once the ad was out, many people online called the ad "stereotypical," "ignorant" and "racist."
That's when Stefano Gabbana got involved. On Tuesday, Gabbana began messaging individuals criticizing the brand, using incendiary, racist language, some of which was captured by fashion critic @DietPrada. According to the New York Times, he wrote, "China ignorant dirty smelling mafia" in one post and implied that Chinese people eat dog meat in another. In @DietPrada's Instagram story that same day, they claimed models, actors and influencers involved with the show had begun to drop out.
The next day, the brand released a statement online claiming that it, along with Stefano Gabbana's Instagram account, had been hacked. "Our legal office is urgently investigating," the statement read. "We are very sorry for any distress caused by these unauthorized posts, comments and direct messages. We have nothing but respect for China and the people of China."
This may have been a more convincing argument if Gabbana's past had not proven his penchant for spreading hate online. In fact, this debacle isn't even their first China-centric controversy. In January 2016, the brand came under fire for their summer 2016 campaign, which was accused of perpetuating Chinese stereotypes.
Shortly after Gabbana's post, the Shanghai show was officially canceled — and backlash continued to mount.
Chinese actress Zhang Ziyi (Crouching Tiger, Hidden Dragon) declared on her official Weibo account (China's version of Twitter) that the brand had "disgraced itself" and that she would no longer be buying from D&G. Chinese pop star Karry Wang, an Asia-Pacific brand ambassador, announced he would be ending his cooperation with D&G.
According to the Times, online retailers jd.com and secoo.com and department store Lane Crawford dropped D&G products, and Net-a-Porter removed them from its Chinese website.
Then, on Friday, the brand made its third attempt at gaining control of the situation, this time via a video posted on their YouTube channel.
"Over the past few days we have thought long and hard with great sadness about everything that has happened and what we have caused in your country, and we are very sorry," Gabbana begins, sullen-faced and expressionless with Dolce by his side.
The pair continued:
Our families have always taught us to respect the various cultures in all the world and this is why we want to ask for your forgiveness if we have made mistakes in interpreting yours. We also want to apologize to all of the many Chinese people throughout the world. We take this apology very seriously as well as this message.
The brand's rare attempts to seek forgiveness may have less to do with feelings of guilt and more to do with potential revenue losses. China is a pivotal market for all luxury brands; it will account for nearly half of luxury sales by 2025, according to a recent study. But the market is especially critical for Dolce & Gabbana. According to Vogue, China represents an estimated 30% of the brand's total revenue.
As the fallout continues, it's certain that this controversy will surely not end the brand, but it could signal the beginning of heightened efforts to dead the brand. There's no telling how long these retailers will keep Dolce & Gabbana products off their site or if more retailers will follow suit. There's also no telling if D&G could see its red carpet favorability evaporate.
What is certain for now is that for the first time in the brand's nearly 33-year history, Dolce & Gabbana's smugness has eroded as the possibility of financial ruin creeps in.
Nov. 26, 2018, 2:07 p.m.: This story has been updated.
Correction: Nov. 26, 2018