Immigration issues raise odds of a government shutdown in lame-duck session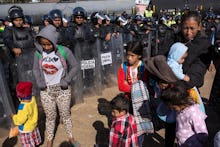 The government is set to run out of funding at midnight on Dec. 7 amid Congress' lame-duck session, and the escalation of the ongoing battle over border wall funding and immigration at the southern United States border could cause yet another shutdown.
President Donald Trump has been pushing for funds for the border wall he has promised since his presidential campaign. Yet since assuming the presidency, he's caved at the 11th hour multiple times over his pet project in order to keep the government's lights on.
Now, with the migrant caravan's arrival at a segment of the border near San Diego over the weekend, coupled with the fact that Republicans are about to lose their unified control of Congress when Democrats seize their House majority in January, this looks like Trump's last best chance to secure funding for the physical border structure. This is raising the stakes that he'll use a shutdown to squeeze billions of dollars for the proposed wall.
"Republicans and Democrats MUST come together, finally, with a major Border Security package, which will include funding for the Wall," Trump tweeted on Friday. "After 40 years of talk, it is finally time for action. Fix the Border, for once and for all, NOW!"
Still, while Trump and a contingent of friendly GOP lawmakers want wall funding, there is no agreement on Capitol Hill on how to get Senate Democrats — whose votes are required to pass legislation — to sign on for the $5 billion in wall funds Trump is demanding, according to Politico.
Senate Democrats have agreed to a much smaller $1.6 billion package for the wall, far short of what Trump wants, according to Politico. It's unclear if there's anything Republicans can offer that will get them to increase that amount.
If Trump digs in his heels and refuses to sign a funding bill that falls short of his $5 billion ask, then the government would shut down. This shutdown wouldn't be as dramatic as past shutdowns, such as the 16-day shutdown in 2013 when Republicans, led by Texas GOP Sen. Ted Cruz, demanded the defunding of the Affordable Care Act. That led to furloughs for roughly 800,000 federal employees.
In 2018, three-quarters of the government has already been funded by bills that Congress passed over the summer, meaning if the government shuts down in December it would only be a partial shutdown.
But any shutdown would become an all-consuming story in Washington. With Democrats emboldened by the results from the midterm elections, getting either side to cave would be a challenge.
"I hope that we can avoid shutting down the government," Sen. Joni Ernst (R-Iowa), one of the GOP Senators up for re-election in 2020, said Sunday on CNN's State of the Union. "We have a lot of departments that do a lot of good for our citizens so we need to make sure that we're funding them properly through Congress."
Congress is set to beak for the holiday on Dec. 13. The 116th Congress will begin in early January.