New York judge allows lawsuit against Trump Foundation to move forward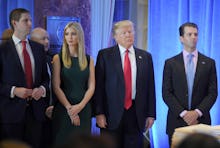 A state judge in New York's Supreme Court ruled Friday that a lawsuit against President Donald Trump and the Trump Foundation can proceed, rejecting the claim from the Trump camp that the lawsuit is politically motivated.
The suit, which was filed in June by New York Attorney General Barbara Underwood, alleges that the Trump Foundation — as run by the president and children Ivanka Trump, Eric Trump and Donald Trump, Jr. — has "transacted business illegally and abusively over a number of years," violating New York state law.
Underwood alleged in the lawsuit that the Trump Foundation "breached their fiduciary duties and failed properly to administer the foundation's assets" through such actions as failing to hold board meetings, allowing non-foundation members to distribute the charity's assets and giving donated foundation funds to Trump's presidential campaign. Foundation funds were allegedly used to settle Trump and his company's legal obligations and on grants aimed at helping Trump's presidential bid.
The lawsuit specifically focuses on one fundraiser for veterans during the Republican presidential primary, in which Donald Trump and the foundation allegedly violated state law by allowing the Trump campaign, rather than the foundation, to distribute donations made to the foundation. State Supreme Court Justice Saliann Scarpulla noted that the state is alleging the "Campaign exploited its control of foundation assets by dictating when and to which charities the foundation distributed donations ... to advance Mr. Trump's presidential bid," and that the foundation donations allowed the campaign to "[garner] expensive, vote-getting publicity that Mr. Trump would have otherwise paid for himself."
Scarpulla allowed these charges against the president and his family to move forward, along with a claim that the Trump Foundation illegally engaged in political activity by "us[ing] the foundation to advance Mr. Trump's presidential bid."
The judge rejected the Trumps' defenses against the lawsuit, including their claim that Donald Trump cannot be sued in state court as a sitting president. The Trumps also alleged the lawsuit was biased, as "the attorney general's animus toward and personal attacks on the respondents" supposedly "tainted" Underwood's investigation and the legal proceedings.
"Given the very serious allegations set forth in the petition, I find that there is no basis for finding that animus and bias were the sole motivating factors for initiating the investigation and pursuing this proceeding," Scarpulla wrote.
In a statement responding to the ruling, Underwood said her office "welcome[d] Justice Scarpulla's decision."
"As we detailed in our petition earlier this year, the Trump Foundation functioned as little more than a checkbook to serve Mr. Trump's business and political interests," Underwood said. "There are rules that govern private foundations — and we intend to enforce them, no matter who runs the foundation."
Trump attorney Alan Futerfas, however, remained confident the president and his family would prevail.
"The decision means only that the case goes forward," Futerfas said in a statement quoted by the Associated Press. "As we have maintained throughout, all of the money raised by the foundation went to charitable causes to assist those most in need."