'Top Chef' star Padma Lakshmi condemns attacks on migrants at border: "We have plenty to share"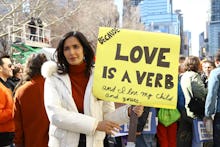 Top Chef host, model and activist Padma Lakshmi spoke out against the Trump administration's attacks on migrants at the United States-Mexico border in a Monday morning appearance on NBC's Today.
Lakshmi spoke about her decision to publicly share her experience as a survivor of rape, and why the sexual assault allegations against Supreme Court Justice Brett Kavanaugh moved her to come forward in a September op-ed. But she also brought up her immigration advocacy work with the American Civil Liberties Union and condemned U.S. officials' tear gas attacks on migrants, including children, at the U.S.-Mexico border on Sunday.
"Obviously even this morning, coming here, I was reading about all the tear-gassing of children on the border and it's devastating," Lakshmi told Today hosts Hoda Kotb and Savannah Guthrie. "I am an immigrant, and I really identify with those people. My mother literally came to this country with $100 in her pocket. That is it. And she made a life for me and her and she left a very bad situation for both of us in India. That takes courage."
"When someone leaves their home and everything they know and belong to, to go to another country, it's because they have little other choice, and we forget that," Lakshmi continued.
"We have plenty in this country. Plenty to share, plenty for everybody. And I think we need to remember that the reason we're great is because of this melting pot of immigrants, and this great cornucopia of influences and cultures and traits and expertise that we cull from all over the world. That's really, to me, what makes America great."
On Sunday afternoon, Central American migrants, including families with children and infants in strollers, attempted to cross the border into the U.S., from Tijuana, Mexico, to San Diego. The U.S. Customs and Border Protection agency responded by closing down the border crossing and firing tear gas at the migrants, the New York Times reported on Sunday.
Migrants fleeing violence and unrest have been attempting to ask for asylum at checkpoints, but the number of people in need has turned the situation increasingly dire. Lakshmi isn't the only celebrity to speak out against the U.S.' use of tear gas against the families.
Other vocal advocates like Busy Philipps, John Legend and Sarah Silverman condemned the state violence against the unarmed migrants in tweets on Sunday and Monday.