Tess Holliday on Victoria's Secret backlash: "I'm not interested in being anyone's token fat model"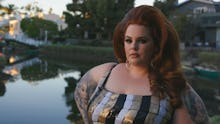 For model Tess Holliday, harassment and death threats are a daily result of nothing more than being who she is in the public eye.
"Every single day someone's telling me that I should die or that I'm killing myself or that I'm disgusting or assuming that I have been at McDonald's five times that day," Holliday said in an interview for Mic Dispatch.
With over 3.5 million social media followers and after gracing magazine covers such as People, Self and Cosmo U.K., Holliday is one of the most recognized fat models models in the world. (Holliday prefers the term "fat" over "plus-size.")
"When I refer to myself in public to strangers as fat, people are really uncomfortable," she said. "They either laugh or they try to like, 'Oh, you're not fat.' And I'm like, 'I'm fuckin' fat.' Like, I get it. You don't have to sugarcoat it for me, and it's how I choose to identify and the adjectives that I use to describe myself. You can't deny that my face is bomb and, like, this face needs to be doing more fashion and editorials, and I feel like by all these magazines not putting me on it, they're actually doing a disservice to themselves."
It's not just magazines that aren't including Holliday and other fat or plus-sized models — it's also major retailers. On Nov. 8, Ed Razek, the chief marketing officer for L. Brands, Victoria's Secret's parent company, gave an interview with Vogue in which he justified the brand's lack of casting of transgender and plus-size models.
"We attempted to do a television special for plus-sizes [in 2000]," he said when asked about the brand never casting a plus-size model in its runway show's 23-year history. "No one had any interest in it, still don't."
So would Holliday, if asked, consider walking for the brand in the future? "I wouldn't do it," she said. "Because that completely blows my credibility. And I've built my brand on authenticity and being myself. I am not interested in being anyone's token fat model."
However, she has one stipulation: if "Victoria's Secret expanded their sizes to sizes I can actually wear; if they were actually having diverse campaigns, shooting on models with diverse body types," then she might change her mind, she said.
Still, Holliday admits the inevitable will likely happen, and Victoria's Secret will find a plus-size model willing to walk the runway. "I just urge people to be smarter than that," she said.
But such rejection from brands does nothing to stop Holliday in her tracks; if anything, it's given her purpose.
"I've made peace with my body and other people haven't and it's not my job to change their mind," she said. "It's just my job to keep doing what I'm doing and to just keep thriving because that's going to make them angry, but it's also going to help other people and change things."
Check out this episode of Mic Dispatch above — only on Facebook Watch.
To catch future episodes of Mic Dispatch, follow Mic Dispatch on Facebook Watch. For more stories about the show, visit the Mic Dispatch collections page.