A "Green New Deal"? How Democrats are planning to address climate change after stark report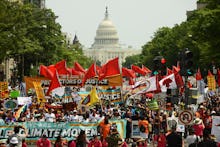 Climate change's monumental effects were re-enforced once again Friday, as the federal government's report titled "Fourth National Climate Assessment" laid bare the devastating impact of the changing climate.
The 1,656-page climate report, which is mandated by Congress and was created by a team of 300 federal and non-federal experts, offered a stark warning about the economic, environmental and human costs of climate change. The assessment found that climate change could cost the U.S. economy between $290 billion to $500 billion per year by 2090, potentially lead to displacement of 13.1 million people by 2100 because of rising sea levels and lead to a rise in health problems and heat-related deaths — along with global food shortages, infrastructure damage and other dire findings.
"The assumption that current and future climate conditions will resemble the recent past is no longer valid," the report states. "Climate change is transforming where and how we live and presents growing challenges to human health and quality of life, the economy and the natural systems that support us."
The Trump administration — which has repeatedly rolled back efforts to combat climate change — has downplayed the report, releasing it during a holiday weekend when Americans were less likely to pay attention to the news. White House deputy press secretary Lindsay Walters said the report's findings were "largely based on the most extreme scenario, which contradicts long-established trends by assuming that ... there would be limited technology and innovation, and a rapidly expanding population" — an assertion that climate scientist Katharine Hayhoe, one of the report's authors, said was "demonstrably false."
House Democrats, however, have used the report to show the importance of addressing climate change when the party takes control of the House. Rep. Eddie Bernice Johnson (D-Texas) said climate change would be "one of [her] top priorities" when she becomes chair of the House Science Committee in January.
"The days of denial and inaction in the House are over, as House Democrats plan to aggressively address climate change and hold the administration accountable for its backward policies that only make it worse," Rep. Frank Pallone Jr. (D-N.J.), the likely incoming chair of the House Energy and Commerce Committee, said in a statement quoted by Politico.
Constituents and environmental groups have also made it clear that as Democrats' sole seat of power in the federal government, it is imperative House Democrats take action on climate change.
"The American people have stood up to Trump," Rhea Suh, president of the Natural Resources Defense Council, told Inside Climate News. "We've rejected his reckless assault on the environment, public health and our children's future. And we've empowered the House to hold him to account for putting polluter profits first and putting the rest of us at risk. Now it's on the House to carry out the people's will."
House Democrats' plan
House Democrats are already suggesting how they'll kickstart their climate agenda upon taking power. The likely incoming House speaker, Nancy Pelosi, told the New York Times she intends to revive a select committee on climate change, which previously existed from 2007 to 2011 but was disbanded when Republicans took control.
Pelosi told the Times the committee would "prepare the way with evidence" on climate change. Her proposal has already been met with resistance from her colleagues, though, as expected leaders of existing committees related to climate change believe the select committee to be unnecessary.
"There are already four committees that have jurisdiction over climate change, and we have climate change champions leading all these committees," Pallone said.
Those existing committees have already vowed to take action on climate change, as Pallone, Johnson and Rep. Raúl Grijalva (D-Ariz.) of the National Resources Committee have already vowed to hold two days of climate hearings in early 2019 centered on the Trump administration's efforts to roll back climate change protections.
House Democrats from the Energy and Commerce Committee, led by Pallone, have also sent a letter to acting Environmental Protection Agency administrator Andrew Wheeler, which requested that the EPA turn over documents related to several proposals affecting the climate, including changes to vehicle emission standards and rolled back requirements on methane leak inspections.
In an interview with USA Today, David Doniger, a climate change expert with the Natural Resources Defense Council, said that making these records public could potentially pressure the EPA into changing its policies, should they show any wrongdoing by the agency. "It's always important to know ... more about the real influence and the real reasons and the real beneficiaries of these decisions," Doniger said. "The public has a right to know that."
Potential legislation and the "Green New Deal"
It's unclear how lawmakers will address climate change legislatively when the next congressional session begins. A number of Republican members of the bipartisan Climate Solutions Caucus were voted out of office in November, including co-founder Rep. Carlos Curbelo (R-Fla.). The caucus introduced several bipartisan pieces of legislation during the current congressional term, including a carbon tax, though the caucus has been criticized for its Republican members' inaction on climate change.
While the Citizens Climate Lobby, an advocacy group that worked to organize the caucus, has vowed the bipartisan group will still continue on in the new Congress, some progressives are pushing a much more radical approach to combating climate change: the Green New Deal.
Led by incoming Rep. Alexandria Ocasio-Cortez (D-N.Y.), the "Green New Deal" is a proposal to radically overhaul the country's approach to climate change through legislation. The plan proposes the creation of a select committee for the deal, which would develop a plan and draft legislation to transition the U.S. economy to become completely carbon neutral within 10 years from the start of its execution. Much like the original New Deal, the legislation would also create jobs in the new green economy, establishing a "job guarantee program" that assures "a living wage job to every person who wants one."
The plan would be developed and the legislation drafted during this congressional session, and the legislation would then be considered and voted on when the Congress after the incoming one takes power in 2021. The select committee would consist of 15 members, including six Republicans. Ocasio-Cortez is pushing that there be no members who receive money from the fossil fuel industry.
Though critics have said the plan's 100% renewable energy goal is unrealistic, the ambitious plan has gained attention in the wake of the midterms, bolstered by climate change activists — joined by Ocasio-Cortez — who occupied Pelosi's office in November to assert their support for the plan.
Many House Democrats have so far been tepid overall about the Green New Deal, despite expressing support for its goals.
"The resolution is a wonderful statement of urgency, you've got to take this seriously and you've only got 10 years to do it," Grijalva said in an interview with the Huffington Post. "I understand that. I don't have a problem with that. What I have a problem with is the mechanisms of how you're going to get this done.
"A select committee? Great. Now what? Those are the questions I have."
The plan has been gaining support, however; in addition to Ocasio-Cortez, House lawmakers backing the proposal include Reps. Jared Huffman (D-Calif.), Ro Khanna (D-Calif.), John Lewis (D-Ga.), Carolyn Maloney (D-N.Y.), José Serrano (D-N.Y.) and Earl Blumenauer (D-Ore.), along with incoming Reps.-elect Deb Haaland (D-N.M.), Joe Neguse (D-Colo.), Ayanna Pressley (D-Mass.), Ilhan Omar (D-Minn.) and Rashida Tlaib (D-Mich.). The plan also has the support of environmental groups, including Greenpeace and the Sierra Club.