From Nixon to Trump, a history of the White House gingerbread home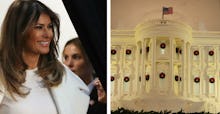 First lady Melania Trump officiated Christmas in the White House on Monday by unveiling the year's seasonal theme, "American treasures," with decorations that include 40 red topiary trees, an 18-foot Christmas tree and 14,000 ornaments.
"This is a joyous time of year when we decorate the White House for the Christmas season," Trump said in a statement. "Our theme honors the heart and spirit of the American people."
To unveil the 2018 decorations, the White House released a video of Trump walking through the decorated halls. She is the only first lady who has chosen not to reveal the White House Christmas decorations in person, an obligation that began as early as Nancy Reagan (though Trump was made available specifically for photo-ops). Stephanie Grisham, Trump's communications director, told the Washington Post that Trump preferred "to let the decorations speak for themselves.
Trump's decorations have since been criticized, namely on the internet, where a video of her walking silently has been compared to a scene from The Shining or even the dystopian Handmaid's Tale. Among the blood-red trees and thousands of ornaments sits the most colorless Christmas decoration of all: a gingerbread replica of the entire National Mall and White House.
The gingerbread creation features intricate details like the presidential palace's tall pillars, long windows and several wreaths hanging above them, in addition to replicas of the Lincoln and Jefferson Memorials and the Capitol. According to a tweet by Grisham, the project incorporated some 225 pounds of gingerbread dough.
Trump's versions are elaborate, although lifeless, contrasts to years' past; They're made with painstaking detail but are devoid of personal detail into the Trump family. It's an austere shadow of a colorful tradition that in many ways represents the criticism that has long followed Trump, who has been accused of having a cold, insensitive demeanor and who rarely offers insight into her own life or thoughts.
The gingerbread White House has long been a tradition among presidential administrations. Each year's home is often bigger and grander than the preceding year's iteration, and over time, the gingerbread has often come to reflect the desires of the first lady. The Clinton gingerbread homes were often playful, revolving around family pets or their childhood homes. Former first lady Laura Bush reportedly preferred traditional-style gingerbread homes that replicated the White House, though in later years, she embraced the holiday cheer with decorative snowflakes and presidential pets of the past.
We took a closer look at the history of the confectionery tradition, dating back to 1972 to see how the longstanding celebration has reflected each presidency — and how the Trump's home is perhaps the biggest departure from a colorful past.
Early White House gingerbread homes were simpler and smaller in scale
In 1972, assistant executive chef Hans Raffert designed one of the first gingerbread homes, under the wishes of first lady Pat Nixon. Raffert's first gingerbread homes were a simple 2-foot A-frame house decorated in gumdrops, icing, candy and cookies. The entire home weighed some 40 pounds and required 12 hours of labor.
"How many of you can bake like this?" Nixon enthusiastically asked a Washington press corps on a tour of the White House Christmas decorations. "My husband tried to pick off a little piece and I said, 'Don't you dare!'"
Raffert would go on to create a number of similar simple A-frame gingerbread homes while serving four more presidential administrations, including Ronald Reagan and Gerald Ford, each more elaborate and larger than the last. For Ford in 1975, Raffert modeled his most memorable gingerbread home concept after the literary characters Hansel and Gretel. Still, the early White House gingerbread homes were a mere shadow in comparison to the modern palatial mansions.
Beginning in the '90s, White House gingerbread homes became more playful and life-like
Pastry chef Roland Mesnier, Raffert's successor, is long credited with having ventured beyond the traditional style of gingerbread homes to create more detailed and life-like versions of houses.
"I tried to make them very, very personal," Mesnier told the Washington Post in 2015. "I think that's what created the excitement around them because we were going for different designs and different themes."
Among his various gingerbread houses, Mesnier designed ones modeled after Bill Clinton and Hillary Clinton's childhood homes and even a Nutcracker ballet-themed house for their daughter, Chelsea Clinton. Mesnier also created the first-ever gingerbread replica of the White House, nicknamed "The House of Socks," which featured 22 marzipan sculptures of the Clinton's family cat, Socks, around the home.
Laura Bush, however, reportedly preferred less innovative interpretations. "Mrs. Bush was very partial to the White House," Mesnier told the Post. "I always wanted to do a futuristic house, really crazy. That was vetoed every time."
In turn, Mesnier created a gingerbread home for Bush that reflected a more solemn approach. Shortly after 9/11, he produced a gingerbread replica of the White House with an American flag and two angels holding stars. In 2002, he also created a similar replica White House that featured past and present presidential pets, including John Quincy Adam's pet alligator and Caroline Kennedy's horse. After briefly retiring, Mesnier returned at the request of Bush in 2006 to create a celebratory White House replica covered in red bows and more than 850 snowflakes.
Later White House replicas paid closer attention to detail than ever before
In 2007, Bill Yosses replaced Mesnier in the White House under the Bush administration. His models for Bush were a departure from those in the past, and noticeably, much more precise in detail. He also experimented with other edible materials in his homes, like white chocolate and even matzoh bread, nixing gingerbread altogether some years.
"The problem with this kind of tradition is you sort of feel like you have to top yourself every year," Yosses told Mic over the phone. "They got increasingly complex. And I always say that I just I kind of ran out of room to keep inventing things."
In 2009, Yosses designed a home for the Obamas that gave a peek into a fully decorated interior room of the White House. "We removed the walls so you could see inside," he said. "And every year, we'd open up a new room and that meant making the furniture in that room out of an edible substance such as chocolate, marzipan or sugar. It kind of involved all the different departments of the White House residents because we needed electricians, carpenters — once even a plumber because we had a water fountain running."
Yosses said while former first lady Michelle Obama didn't have a ton of involvement in the ideation process, he did have to get necessary approvals before making major changes.
"They kind of let you do what you want," he said. "That's not always true. For state dinners, they'll sometimes be very involved in the menu selection. But on this, we pretty much had free reign unless we wanted to move furniture. That's sometimes a big deal because it's a museum as well as being a living home, so that always involves curators, [the] historical society — all this stuff."
When Yosses left the White House in 2014, pastry chef Susan Morrison assumed his role under the last years of the Obama administration. In 2015, Morrison created the first-ever dark chocolate gingerbread home, and the following year, she modeled the Obama family dogs and adorned the White House in celebratory, larger-than-life gingerbread men.
With the Trump administration, the gingerbread homes have become increasingly devoid of personal detail
With the Trump administration, the White House gingerbread homes have appeared solemn. In 2017, Morrison designed an elaborate, though colorless, house with wreaths hanging from the windows. In 2018, while larger in scale, the edible White House is virtually identical to the previous year's in color and structure.
It's telling that 2018's White House gingerbread home is so finely tuned and simultaneously wholly unremarkable. Like a sentiment conveyed on a jacket or a speech using a former first lady's exact words, Trump has often avoided expressing her thoughts and revealed little in nearly two years as first lady. She's an enigma, but perhaps it's simply because she has little to say beyond responding to criticism from "left-wing media." But if the 2018 gingerbread home conveys any of her own thoughts, perhaps it's simply that she loves Christmas and rejoices in reinterpreting White House traditions — just don't ask her any questions about it.