Mic Daily: Mexico now denies deal with US on immigration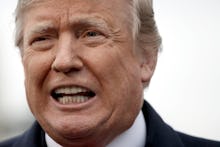 Hello, readers, and happy Monday! I hope those of you in the United States have plump, satiated bellies from the holiday weekend and are ready to take on the new week. Let's get back into the swing of things, as we do every weekday, with the top five stories from Mic.
Immigration issues raise odds of a government shutdown in lame-duck session
Another government shutdown looms on the horizon. This time, it's Trump's border wall obsession that could grind Washington to a halt. Read more.
Mexico's incoming administration now denies deal with US on immigration
The Washington Post reported over the weekend that the United States and Mexico had agreed to changes in immigration policies between the two countries — among them, keeping asylum-seekers in Mexico while their cases are processed by the United States. But in a new statement, Mexico's incoming interior minister, Olga Sánchez Cordero, denied such a deal is in place. Read more.
A "Green New Deal"? How Democrats are planning to address climate change
House Democrats — like the rest of us — are grappling with Friday's report on the effects of climate change. Incoming Rep. Alexandria Ocasio-Cortez, with the help of her fellow representatives, aims to lead an ambitious new effort to tackle the problem upon taking office — but her colleagues have ideas of their own. Read more.
Disney World opened its first-ever Jewish food pop-up at Epcot — but there's one big problem
Many observant Jews won't actually be able to eat at Disney World's Jewish food pop-up — but not everyone is in agreement whether it's that big a deal. Read more.
The rapid and inevitable undoing of Dolce & Gabbana
Dolce & Gabbana has remained a powerful fashion house, despite its many indiscretions over recent years. That might be changing, writes Evan Ross Katz. Read more.
Mic Daily is Mic's newsletter that cuts through the noise and lands in your inbox every weekday. We carefully curate each edition to send you a cross section of our most vital stories of the day.