Hype Daily: Shawn Mendes speaks out about rumors he's gay and more entertainment news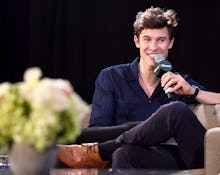 Good morning, Hype Daily readers, and what a morning it is on this fine Tuesday. Let's get you all set up with today's entertainment news.
Shawn Mendes is speaking out about all that speculation on his sexuality
Pop star Shawn Mendes spoke to Rolling Stone for a revealing interview, published Monday, in which he opened up about his neuroses, his relationship with Hailey Baldwin and the rumors that he's gay and not open about it. Mendes was candid about the toll that constant internet speculation about his sexuality has taken on his wellbeing, saying he reads comments from strangers about the way he sits, for example, and then tries not to sit that way again.
"In the back of my heart, I feel like I need to go be seen with someone — like a girl — in public, to prove to people that I'm not gay," Mendes said. "Even though in my heart I know that it's not a bad thing. There's still a piece of me that thinks that. And I hate that side of me."
He recalled how anxiety over strangers speculating about his sexuality has affected him, recalling one instance where friend Taylor Swift shared a video of her putting eye makeup on him. "I felt sick," he said, of thinking about the post after Swift had shared it. "I was like, 'Fuck, why did I let her post that?' I just fed the fire that I'm terrified of."
The message from this interview is clearly that peoples' sexuality, no matter what it is, isn't a spectator sport. Let's all leave Shawn alone now, OK?
Everyone and their mother is in this new Amazon show
The new Amazon series Modern Love has a stacked cast that includes, well, about a million famous people. The upcoming eight-episode anthology series is based on the New York Times column and podcast of the same name, the Hollywood Reporter reported on Monday, and the cast already includes Anne Hathaway, Tina Fey, Dev Patel, John Slattery, Brandon Victor Dixon, Catherine Keener, Andy Garcia, Cristin Milioti, Shea Whigham, Sofia Boutella and John Gallagher Jr.
But it will be a while before the series comes out — according to the Hollywood Reporter, the show is currently in production in New York City.
Jerry Springer is getting a new courtroom show
Daytime television icon Jerry Springer is getting a new show, CNN reported on Monday. Springer has a new deal with NBC to return to TV on a project called Judge Jerry, which will feature Springer as a judge in a courtroom, presumably making decisions about people's lives. Springer isn't an actual judge — although he does have a law degree — but why would that matter at all? Judge Jerry will premiere sometime in the fall of 2019.
A24's film library is now available to stream for free
Film production company A24, the company behind award-winning films like Moonlight and Lady Bird, has made almost all of its movies available to stream through a free service called Kanopy, the Verge reported on Monday. And Kanopy is available through your local library, where membership is also free. Aren't libraries amazing? Check out Kanopy here to browse its entire collection and see if your local library is a participant.
Put this on your radar: NASA landed a spacecraft on Mars
This isn't Hollywood magic; this is real life. But I wanted to include it in today's roundup since it's just so cool. On Monday, the good people at NASA landed the InSight, a machine that will study the interior of the red planet, on the surface of Mars.
InSight had to travel 301,223,981 miles to reach Mars, CNN reported, and its arrival marks only the eighth time landing on the planet in human history. NASA employees burst into cheers and applause on Monday when they got the confirmation from InSight the landing had been successful. Congrats, NASA — now I can't wait for the movie version.
This has been Hype Daily, Mic's morning entertainment roundup. It's everything you need to catch up on in the entertainment world and what to look forward to today. Want to receive this as a daily email in your inbox? Subscribe here.