Paul Manafort accused of lying, breaching cooperation agreement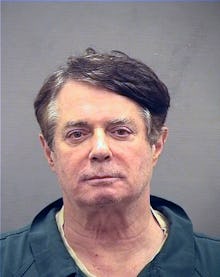 It's officially Christmas at the White House. The halls have been decked, some with red trees that look ripped straight from the bloody elevator scene in The Shining.
White House Christmas parties begin on Tuesday, including an evening reception for members of the Secret Service. Can someone save me a glass of eggnog?
Here's what's happening in Trump's America:
• Trump's day begins at 12:45 p.m., when he's scheduled to have lunch with Secretary of State Mike Pompeo and Secretary of Defense Jim Mattis.
About last night: Mueller accuses Manafort of lying
Former Trump campaign chairman Paul Manafort finds himself in even more legal trouble after special counsel Robert Mueller accused Manafort of repeatedly lying to federal investigators after he agreed to cooperate with Mueller's team in a September plea deal.
"After signing the plea agreement, Manafort committed federal crimes by lying to the Federal Bureau of Investigation and the Special Counsel's Office on a variety of subject matters, which constitute breaches of the agreement," Mueller wrote in a court filing.
Manafort pleaded guilty in September and agreed to cooperate with Mueller to avoid a second trial on charges of conspiracy to obstruct justice, tax fraud, money laundering, failure to register as a foreign agent and lying to federal investigators, among other things. He had already been convicted on multiple counts of bank fraud and tax evasion a month earlier, which carried the possibility of 80 years behind bars.
Manafort met with Mueller's team at least 12 times as part of that cooperation agreement, according to the New York Times.
However, Mueller's team said they have evidence Manafort lied to investigators during those sessions and would provide it in a separate filing. This raises the possibility the public may learn some of what Mueller knows in his probe into Russian interference in the 2016 election.
Manafort's lawyers, for their part, challenged Mueller's claim that Manafort lied.
"Manafort has provided information to the government in an effort to live up to his cooperation obligations," his lawyers said in the filing. "He believes he has provided truthful information and does not agree with the government's characterization or that he has breached the agreement."
Both sides told U.S. District Court Judge Amy Berman Jackson that because the cooperation agreement is over, she should schedule a sentencing date for Manafort, who remains imprisoned in solitary confinement in Alexandria, Virginia.
Today in Trump's America: Voters vote in Mississippi
Trump traveled to Mississippi on Monday to campaign for Republican Sen. Cindy Hyde-Smith, who faces a runoff Tuesday against Democrat Mike Espy.
A race like this would often be written off as noncompetitive, given Mississippi's strong Republican lean. However, Hyde-Smith's racist comments have put the national spotlight on the Magnolia State's election.
Trump will likely take credit for a Hyde-Smith win, as he's done in the past with other Republicans he's endorsed or held campaign rallies for.
However, the few public polls in the race showed Hyde-Smith with a comfortable lead even before Trump descended upon the state.
Of course, it always comes down to turnout, especially in a runoff election right after the Thanksgiving holiday. But if I were a betting woman, I'd put my money on Hyde-Smith.
And the rest...
More good news for House Democrats: California is still counting votes from the Nov. 6 election, and on Monday night, Democrat T.J. Cox officially took the lead over GOP Rep. David Valadao in California's 21st District. Television networks and the Associated Press, all of whom had already called the race for Valadao, retracted those calls. Cox is now the favorite in this Central Valley-based district, which would bring Democrats' House pickups to 40 — a number that was unheard of when the election cycle began.