At last, a swimwear line specifically designed for women with disfigurement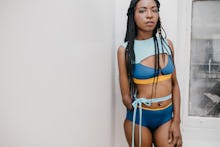 For María Luisa Mendiola — despite a love of fashion that saw her transition careers from finance to fashion, and graduating with distinction from the famed design school Central Saint Martins — fashion did not seem to love her or other people that lived with some form of disfigurement.
Mendiola has brachymetatarsia (or hypoplastic metatarsal), which in her case means that she has shortened fourth toes on both of her feet. She decided to tackle fashion inclusivity a couple years back when a friend asked Mendiola what was wrong with her toes.
"I got very uncomfortable and quickly changed the subject," Mendiola said in an interview. "I remember thinking: How is it possible that I am 25 years old and I still react like this when someone asks me about my feet? It dawned on me that this question was always going to come up, no matter how old I got. So I decided to focus my master's at Central Saint Martins on figuring out ways to lower stigma in the disfigurement community."
According to a survey of young people between the ages of 7 to 17 conducted by the U.K. charity Changing Faces, 1 in 10 young people with physical differences reported feeling depressed about their appearance and 1 in 5 young individuals living with visible differences avoid being in photos. Additionally, 1 in 6 young people avoid being in public altogether.
Mendiola found that thoughtful swimwear design coupled with compelling storytelling could help women feel more comfortable with their visual differences and could create something akin to a sisterhood. And then, the earliest iteration of MIGA Swimwear was born.
With the brand's Kickstarter fundraiser, Mendiola is getting ready to launch the brand's first purchasable collection, a collaboration with three burn survivors that caters to their needs. For instance, one of their volunteers has a burn scar on her right arm and leg so they created a one-shoulder suit with matching cover-up for her.
According to Mendiola, each bathing suit comes with a matching bag that details the story behind the disfigurement "as a way to empower our volunteers to overcome stigma by sharing their story, and as a way to raise awareness about what it is to live with disfigurement among our non-disfigured customers." The fabrics are all made from recycled nylon and have been treated with SPF 50. The bathing suits will be available in sizes XS to 3XL.
Mendiola recognizes the complexities of calling those living with some form of disfigurement a community. "The disfigurement community as its own entity doesn't exist in the U.S.," she said. "It is usually lumped in with the disability community and this can be misleading, as not all people with disfigurements are considered disabled by law."
Mendiola cited organizations such as the Phoenix Society for Burn Survivors and the National Eczema Association for their work in building communities for people with specific types of disfigurement, but noted that there's no single organization that brings together all types of disfigurement.
But for Mendiola, one common thread was the shared experience of living with disfigurement, and the pervasive stigma that individuals face. Sometimes, that stigma is internalized.
"When I started this project in Central Saint Martins, I had the opportunity to work with not only burn survivors, but also with a woman that had facial palsy and another one that had scoliosis," she said. "I quickly found out that it really doesn't matter what type of disfigurement you have, the experience is very similar. Working with a group that has different types of disfigurement helped everyone involved, including myself, lower the stigma we felt toward our disfigurement."
In the future, Mendiola sees MIGA Swimwear moving to other categories such as women's resort wear, ready-to-wear and eventually men's fashion. "I also see the company having its own charitable arm that focuses on creating curriculums for schools on how to approach disfigurement, workshops for how to cope with a change in appearance or with discrimination at work," she said.
But Mendiola is quick to note, MIGA Swimwear is not about having a swimsuit, but about feeling empowered in it. "One of our London volunteers, who hadn't been back to a pool since her burn injury, returned to swimming after we worked together, claiming that she felt proud and confident when wearing the swimsuit. Another one of our volunteers, empowered by our collaboration, has gone to become an advocate for the disfigured community. Ultimately, our aim is to create a brand for disfigured and nondisfigured women to come together and break the stigma of looking differently."
Ultimately, it all comes back to the storytelling.
"Raising awareness about what it is to live with disfigurement is at the forefront of everything we do," Mendiola said. "I believe that there is a gap in education, in people understanding why some people look the way they do. By empowering our volunteers to tell their story, we bridge that gap."